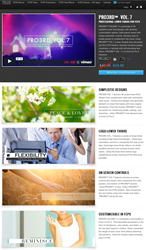 Pro3RD Vol. 7 delivers high quality animations that will add a level of fun to any editors video project
Aliso Viejo, California (PRWEB) October 30, 2014
Developers and plugin specialist of Final Cut Pro X plugins have announced a new fun animated plugin entitled Pro3RD Vol. 7 from Pixel Film Studios.
"Pro3RD Vol. 7 delivers high quality animations that will add a level of fun to any editors video project," said Christina Austin, CEO of Pixel Film Studios. "Blurring the line between professional and armature, Pro3RD Vol. 7 is a definite game changer."
Pro3RD Vol. 7 is a package of 30 simplistic lower-third designs with amazing customization options. Each preset comes with unique parameter controls, allowing users to tweak presets to complement the scene. Using Pro3RD Vol. 7 is easy. Drag and drop any preset into the FCPX timeline. Instantly introduce people, characters, or settings with self-animating text effects. Pro3RD Vol. 7 is a Final Cut Pro X exclusive.
Pro3RD Vol. 7 features 30 unique lower-third designs that complements clean and minimalistic video styles. Choose from designs with geometric elements to lower-third styles with more organic animations. Pixel Film Studios' PRO3RD™ series are perfect for introducing people, settings, and characters. Utilize Pro3RD Vol. 7 with absolute ease in Final Cut Pro X.
Pro3RD Vol. 7 features a variety of lower-thirds including 8 logo lower-third designs. Utilize easy colorization controls to manipulate the style of the logo. Using logo lower-thirds, editors can fluidly establish personal and company brands within videos. Utilize the lower third without logo capabilities by simply checking off the drop-zone provided.
Pro3RD Vol. 7 features intuitive on-screen controls that assists users manipulate the scale, position, and rotation of Pro3RD Vol. 7 presets. Using PRO3RD™ is easy. Drag a PRO3RD™ preset into the FCPX timeline. Next change the text and stylize using color wheels and sliders. Pro3RD Vol. 7 will do the rest.
Pro3RD Vol. 7 is completely customizable in Final Cut Pro X. Find adjustable parameters in the form of checkboxes, color wheels, and sliders, in the top-right inspector window. Easily manipulate the length of each lower third without distorting title elements. Pixel Film Studios makes amazing easy in FCPX.