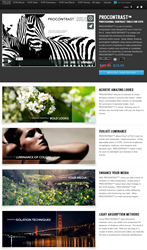 ProContrast is designed as a tool that can isolate the luminance of elements within FCPX
Aliso Viejo, California (PRWEB) October 29, 2014
Motion Graphics artists at Pixel Film Studios have announced the release of a new plugin ProContrast designed exclusively for Final Cut Pro X.
"ProContrast is designed as a tool that can isolate the luminance of elements within FCPX" Said Christina Austin, CEO of Pixel Film Studios. "The ProContrast plugin is a perfect plugin for any editor from amateur to professional.
ProContrast is a set of contrast manipulation tools designed for use in Final Cut Pro X. Utilize ProContrast to isolate and manipulate the luminance of contrasting elements within scenes. Easily darken shadows and brighten highlights using various techniques to add a touch of boldness to video productions. Achieve a subtly more vivid look or completely transform the mood into a cinematic blockbuster. ProContrast is a FCPX exclusive.
ProContrast features 8 methods to create amazing contrast in pictures and videos. Utilize these customizable effect presets to manipulate the luminance of personal media. Each ProContrast is unique, allowing users to achieve new stunning looks with just the drag of a mouse.
ProContrast allows Final Cut Pro X users to isolate and manipulate media luminance. Using adjustable sliders in FCPX, control the brightness of highlights, midtones, and shadows with absolute ease. ProContrast makes it easy for users to add depth and intensity to their scenes.
With ProContrast, users can add a touch of vividness to video productions. Simply drop a ProContrast preset atop video footage in the FCPX timeline. ProContrast will instantly transform media by subtly darkening shadows and introducing new light. Allow ProContrast to make amazing happen.
Using ProContrast light absorption methods, users can isolate and manipulate the deepness of shadows within scenes. The result is an subtly bolder look. With just the drag of a couple of sliders, pictures and videos can replicate the look of professional cinnematic blockbusters.
Established in 2006, Aliso Viejo, California-based Pixel Film Studios is an innovative developer of visual effects tools for the post-production and broadcast community. Their products are integrated with popular non-linear editing and compositing products from Apple FCPX. All Apple, the Apple logo, Mac OS X, and Macintosh are registered trademarks of Apple Inc. in the U.S. and/or other countries. All other trademarks and trade names are the property of their respective owners.