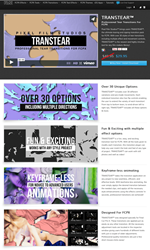 TransTear gives users the ability to add 30 different tear transitions to enhance their video
Aliso Viejo, California (PRWEB) November 13, 2014
Pixel Film Studios, a leader of Final Cut Pro X plugins and themes, announced today the release of a new plugin entitled TransTear, a glitch generator plugin for FCPX
"TransTear gives users the ability to add 30 different tear transitions to enhance their video," says Christina Austin, CEO of Pixel Film Studios. "Each transition is full of self tearing and ripping transition fun."
Pixel Film Studios brings users TransTear, the ultimate tearing and ripping transition pack for FCPX. With over 30 styles of tear transitions, including multiple effect and movement controls, TransTear is the newest and highly intuitive tool for any filmmaker's library.
TransTear includes over 30 different variations and pre-made movements. Each individual transition also has flip controls enabling the user to extend the variety of each transition. From top to bottom tears, to wind-driven left to right rips, TransTear includes all these options and more.
TransTear is a fun, easy, and exciting transition tool for FCPX. With all the tools given to modify each transition, this transition plugin can help any user match the look and feel of any type of project. TransTear can work with still photos and well as video.
TransTear takes the transition application on any project to new seamless, efficient, and effective levels. With keyframe-less animating, the user simply applies the desired transition between the needed clips, and applies all the necessary style enhancements using the effects controls. In seconds, professional transitions are achieved.
TransTear was designed specially for Final Cut Pro X. These transitions are applied just as easily as any other transition. All the necessary adjustment tools are located in the inspector window giving users hundreds of different looks with just a couple of slider adjustments. Professional quality transitions are just a few short mouse-clicks away.
Established in 2006, Aliso Viejo, California-based Pixel Film Studios is an innovative developer of visual effects tools for the post-production and broadcast community. Their products are integrated with popular non-linear editing and compositing products from Apple FCPX. All Apple, the Apple logo, Mac OS X, and Macintosh are registered trademarks of Apple Inc. in the U.S. and/or other countries. All other trademarks and trade names are the property of their respective owners.