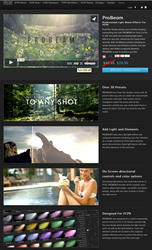 ProBeam allows users to drag and drop customizable light beam effects
Aliso Viejo, California (PRWEB) November 21, 2014
Theme and plugin developers from Pixel Film Studios have announced a new intro plugin entitled ProBeam for Final Cut Pro X.
"ProBeam allows users to drag and drop customizable light beam effects," said Christiana Austin, CEO of Pixel Film Studios. "We've given our users the tools needed to customize their own mysterious light beam styles."
Pixel Film Studios brings users another amazing compositing tool with ProBeam for Final Cut Pro X. Add the subtle but enveloping light beam effects to any shot, enhancing the mood within seconds! With 30 different presets including on-screen direction and distance controls, full color options, and added composite elements, ProBeam is sure to enhance any film.
ProBeam from pixel Film Studios comes with 30 presets allowing users to create new environment composites with ease. Each preset can be changed to match the scene with all the necessary controls any user could want. From a novice to expert, this tool can work for any filmmaker.
ProBeam helps users add light effects and composite elements enhancing any shot. Whether it's a simple infomercial of the latest extreme sports documentary, these light beams will take the films elements to the next level.
Controlling light beams has never been easier in FCPX. ProBeam includes all the controls users need to adjust light angles, ray widths and gleam speeds, along with the color controls to match any light source.
ProBeam was designed as a useful compositing tool for Final Cut Pro X. On-Screen controls help the user decide which direction the light should point, as well as the light distance. Color and element controls are located in the inspector window allowing users to jump in the drivers seat and begin enhancing their film with ease.
Established in 2006, Aliso Viejo, California-based Pixel Film Studios is an innovative developer of visual effects tools for the post-production and broadcast community. Their products are integrated with popular non-linear editing and compositing products from Apple FCPX. All Apple, the Apple logo, Mac OS X, and Macintosh are registered trademarks of Apple Inc. in the U.S. and/or other countries. All other trademarks and trade names are the property of their respective owners.