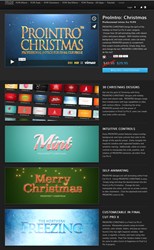 The ProIntro Christmas Title Pack is a self-animating introduction plugin that gives users control over colorful Christmas title sequences inside FCPX
Aliso Viejo, California (PRWEB) November 24, 2014
Final Cut Pro X plugin specialists have announced the release of the ProIntro Christmas from Pixel Film Studios.
"The ProIntro Christmas Title Pack is a self-animating introduction plugin that gives users control over colorful Christmas title sequences inside FCPX," said Christina Austin, CEO of Pixel Film Studios. "Users will take their video to the next level with this ProIntro plugin."
ProIntro Christmas brings the spirit of the holidays to Final Cut Pro X users' projects. Choose from 30 self-animating titles with vibrant colors and joyous designs. With intuitive overlay, background, and style controls, users can easily customize ProIntro presets to complement their project moods perfectly. Simply drag, drop, and change the text, ProIntro Christmas will do the rest!
Get into the spirit of Christmas with thirty ProIntro Christmas' designs with holiday tones and vibrant reds. ProIntro designs range from introductions with logo capabilities to titles with cartoon effects. Combining the array ProIntro presets with the power of customization in Final Cut Pro X, users can create new looks within seconds.
Every ProIntro preset features unique overlay, background, and style controls that cater to the design of the specific preset. Easily navigate the inspector window with organized headers and simplistic naming. Additionally, utilize on-screen controls to manipulate the scale, position, and rotation of ProIntro elements, all within Final Cut Pro X.
ProIntro designs are self-animating within Final Cut Pro X. Using ProIntro Christmas is easy. Simply drag and drop the desired preset into the Final Cut Pro X timeline. Change the text, manipulate the colors, and use on-screen controls to alter orientation. Click the play-head and watch ProIntro come to life.
ProIntro Christmas is a Final Cut Pro X exclusive. Manipulate presets using on-screen controls, color wheels, sliders, and pop-up menus found in the top-right inspector window. Add snow, a vignette, a frame, and more using new overlay controls. Pixel Film Studios makes it easy for users to add a touch of happiness to Final Cut Pro X projects.
Established in 2006, Aliso Viejo, California-based Pixel Film Studios is an innovative developer of visual effects tools for the post-production and broadcast community. Their products are integrated with popular non-linear editing and compositing products from Apple FCPX. All Apple, the Apple logo, Mac OS X, and Macintosh are registered trademarks of Apple Inc. in the U.S. and/or other countries. All other trademarks and trade names are the property of their respective owners.