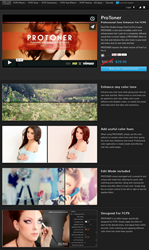 ProToner allows users to set the tone and mood of their seen to maximize the emotion of any video story
Aliso Viejo, California (PRWEB) November 26, 2014
Developers and plugin specialist of Final Cut Pro X plugins have announced a new plugin entitled ProToner taking FCPX to the next level.
"ProToner allows users to set the tone and mood of their seen to maximize the emotion of any video story," said Christina Austin, CEO of Pixel Film Studios. "Blurring the line between professional and armature, ProToner is a definite game changer."
Pixel Film Studios brings Final Cut Pro X users ProToner, a new and incredibly useful tone enhancement tool. Look for a completely different mood from a scene? Apply a ProToner effect to the shot and enhance the color tones to give each and every shot its own look and feel.
Enhance any color tone while giving each shot its own look and feel. Warm tones or cool tones can be applied to each shot. Make each scene different with brighter colors or modify the mood and make each shot dark and mysterious.
When using ProToner, simply use the color selector to sample colors from each shot, giving the shots new ambiance and mood. Professional color application is made simple and effective with this useful plugin.
ProToner comes packaged with a powerful and unique edit mode tool, allowing for quick color matching and selection, along with viewing the before and after effect of each shot. Simply drag the on-screen control to the left or right to see the applied effect.
ProToner is an effect plugin specifically designed for FCPX. Simply apply the effect to each of the desired shots, and adjust them within seconds. Color matching and applying different color tones has never been quicker.
Established in 2006, Aliso Viejo, California-based Pixel Film Studios is an innovative developer of visual effects tools for the post-production and broadcast community. Their products are integrated with popular non-linear editing and compositing products from Apple FCPX. All Apple, the Apple logo, Mac OS X, and Macintosh are registered trademarks of Apple Inc. in the U.S. and/or other countries. All other trademarks and trade names are the property of their respective owners.