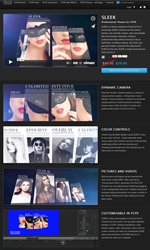 Sleek is a simple-to-use and a simplistic template that allows FCPX users to create a professional themed video with ease in Final Cut Pro X
Aliso Viejo, California (PRWEB) November 29, 2014
Final Cut Pro X plugin and effects manufacturer, Pixel Film Studios, announces the production of the Sleek Theme template for Apple's Final Cut Pro X.
" Sleek is a simple-to-use and a simplistic template that allows FCPX users to create a professional themed video with ease in Final Cut Pro X," said Christina Austin, CEO of Pixel Film Studios, "With 48 camera options and On-Screen controls, the user has controls of the environment with the Sleek Theme."
Pixel Film Studios themes feature a variety of unique camera options. A drop-down menu labeled "Camera Options" contains an intuitively categorized list of camera presets including sweep, boom, slide and dolly to create your professional project in Final Cut Pro X.
Create varying sleek designs using Sleeks easy-to-use color controls. Create desirable looks using simple color wheels and color schemes that realistically reflect with the environment. Changing the background color will give you an extra level of customization.
Both pictures and videos can be inserted into drop zones using Sleek. After opening an "Environment Shots" generator into the FCPX timeline you can add personal media by dragging it into a designated drop zone. Double-clicking will activate scaling and position on-screen controls in the Viewer. Professional video editing has never been easier.
Sleek is fully customizable in Final Cut Pro X. Controls can be found in the top-right inspector window in FCPX. Utilizing checkboxes, color wheels, sliders, dials, drop-down menus and on-screen controls can help you manipulate Sleek easily and intuitively. Let Sleek aid you in creating the video you imagined.
Established in 2006, Aliso Viejo, California-based Pixel Film Studios is an innovative developer of visual effects tools for the post-production and broadcast community. Their products are integrated with popular non-linear editing and compositing products from Apple FCPX. All Apple, the Apple logo, Mac OS X, and Macintosh are registered trademarks of Apple Inc. in the U.S. and/or other countries. All other trademarks and trade names are the property of their respective owners.