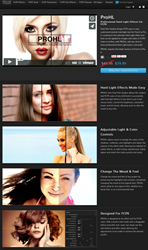 ProHL gives users the ability to manipulate a hard light tool to pull off an industry professional look
Aliso Viejo, California (PRWEB) December 05, 2014
Plugin and template developers from Pixel Film Studios have announced the ProHL Plugin for Final Cut Pro X.
"ProHL gives users the ability to manipulate a hard light tool to pull off an industry professional look" Said Christina Austin, CEO of Pixel Film Studios. "When users get their hands on ProHL, a new level of professionalism will become the standard."
Pixel Film Studios brings FCPX users a new, useful, and intuitive hard light tool for Final Cut Pro X. Looking for the ultimate Hard Light effect tool that can be applied to images and video in FCPX? Look no further, with ProHL, edit any shot to have professional Hard Light looks in seconds!
ProHL from Pixel Film Studios allows filmmakers and FCPX users of any skill level to successfully add hard light effects to any shot in just a few mouse clicks. Control the brightness, saturation levels, and tint levels, allowing users to alter the mood of any shot.
ProHL slows users to change the colors of the shadows, mid-tones, and highlights and adjust the opacity of the effect itself, allowing the addition of subtle effects, or add a heavy stylized look. Easily adjust and match the styles quickly and easily.
Change the mood and feel of any project by enhancing the highlights and contrast, completely changing the mood of the original shot. ProHL works great for any type of shot, whether it's a facial shot, or an environmental shot.
ProHL is designed as an effect tool for FCPX users. users can easily see the shot before and after, easily allowing the adjustments to be made to achieve the desired results.
Established in 2006, Aliso Viejo, California-based Pixel Film Studios is an innovative developer of visual effects tools for the post-production and broadcast community. Their products are integrated with popular non-linear editing and compositing products from Apple FCPX. All Apple, the Apple logo, Mac OS X, and Macintosh are registered trademarks of Apple Inc. in the U.S. and/or other countries. All other trademarks and trade names are the property of their respective owners.