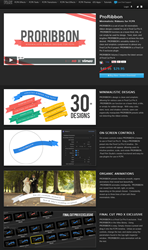 ProRibbon gives users the ability manipulate a computer generated ribbon
Aliso Viejo, California (PRWEB) December 07, 2014
Pixel Film Studios, a leader of Final Cut Pro X plugins and themes, announced the release of a new plugin entitled ProRibbon, a manipulatable generated ribbon for FCPX.
"ProRibbon gives users the ability to manipulate a computer generated ribbon," says Christina Austin, CEO of Pixel Film Studios. "Each ProRibbon preset has customizable parameters to create the look users want."
ProRibbon is a set of over 30 minimalistic ribbon designs created for use in Final Cut Pro X. ProRibbon functions as a lower-third, title, or can simply be used for design. Twist, slant, and lengthen ProRibbon presets to achieve the style desired. ProRibbon's versatility makes it a clean and simplistic complement to almost any Final Cut Pro X project. ProRibbon is a Final Cut Pro X exclusive plugin.
ProRibbon's design is clean and simplistic allowing for various uses in Final Cut Pro X. ProRibbon can function as a lower third, a title, or simply for added design. With easy color, slant, twist, and shadow controls, users can organically manipulate ProRibbon presets while not distorting the ribbon entirely.
On-screen controls makes ProRibbon a breeze to use in Final Cut Pro X. Drag a ProRibbon preset into the Final Cut Pro X timeline. On-screen controls will appear, allowing users to intuitive position, scale, and rotate ProRibbon. Pixel Film Studio's creates functional and easy-to-use plugins for use in FCPX.
ProRibbon presets features smooth, organic animations that reveal text beautifully. ProRibbon animates intelligently. ProRibbon can reveal from the left, right, or center, depending on the preset chosen. Consistently reveal up to three lines of text with these minimalistic titles.
ProRibbon is a Final Cut Pro X exclusive. Find ProRibbon in the titles library. Using ProRibbon is easy. Simply choose a preset and drag it into the FCPX timeline. Utilize on-screen controls, change the text, and stylize using the parameters found in the top-right inspector window. ProRibbon auto-animation will do the rest.
Established in 2006, Aliso Viejo, California-based Pixel Film Studios is an innovative developer of visual effects tools for the post-production and broadcast community. Their products are integrated with popular non-linear editing and compositing products from Apple FCPX. All Apple, the Apple logo, Mac OS X, and Macintosh are registered trademarks of Apple Inc. in the U.S. and/or other countries. All other trademarks and trade names are the property of their respective owners.