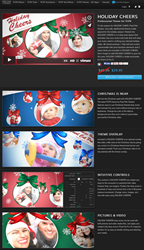 Our goal is to offer our users a wide variety quality themes and the Holiday Cheers theme adds a clean and contemporary environment to our growing library
Aliso Viejo, California (PRWEB) December 10, 2014
Final Cut Pro X motion graphics artists of themes and 3rd party plugins have announced a new Template the Holiday Cheers Theme from Pixel Film Studios
"Our goal is to offer our users a wide variety quality themes and the Holiday Cheers theme adds a clean and contemporary environment to our growing library." Says Christian Austin, Pixel Film Studios CEO. "Holiday Cheers theme features intuitive controls our users will love."
Get into the Christmas spirit with Holiday Cheers. The latest FCPX theme by Pixel Film Studios features easy-to-use Christmas themed drop zones that animate into the scene without having to rely on keyframes. Change the color of the ribbons, background and drop zone outline to personalize the perfect Christmas video.
Included in Holiday Cheers is an optional overlay that adds a little extra to the Christmas vibe by giving control of a Christmas themed text banner and animated snowfall. Users will push their Christmas video to its full potential with this theme overlay.
The controls in Holiday Cheers are simple and easy for the consumer to customize their video however they can imagine. Position the drop zones in hundreds of ways and choose from a list of 48 preset camera movements. Change colors, images, and size with ease using Holiday Cheers.
Holiday Cheers drop zones can be used with both pictures and video media files. Just apply the final cut pro x media to the drop zone in Final Cut Pro X's inspector window. It's as easy as double clicking and selecting any media.
Established in 2006, Aliso Viejo, California-based Pixel Film Studios is an innovative developer of visual effects tools for the post-production and broadcast community. Their products are integrated with popular non-linear editing and compositing products from Apple FCPX. All Apple, the Apple logo, Mac OS X, and Macintosh are registered trademarks of Apple Inc. in the U.S. and/or other countries. All other trademarks and trade names are the property of their respective owners.