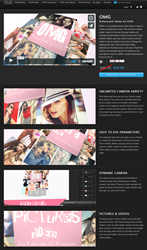 OMG is a simple-to-use and a simplistic template that allows FCPX users to create a professional themed video with ease in Final Cut Pro X
Aliso Viejo, California (PRWEB) December 13, 2014
Final Cut Pro X plugin and effects manufacturer, Pixel Film Studios, announces the production of the OMG Theme template for Apple's Final Cut Pro X.
"OMG is a simple-to-use and a simplistic template that allows FCPX users to create a professional themed video with ease in Final Cut Pro X," said Christina Austin, CEO of Pixel Film Studios, "With 48 camera options and On-Screen controls, the user has controls of the environment with the OMG Theme."
This theme lets the user pick any camera angle they choose. The camera is controlled either by an on-screen control or numbers and sliders inside of the inspector window. Pull the lever up to move in closer with the camera. Move one of the three levers up and down to controls the X, Y, and Z rotation of the camera.
This template gives the user easy to use controls to change the parameters of the environment. Color wheels, sliders, pop-ups, and on screen controls makes it easy to create a new scene. OMG makes it easy to create a professional video.
This theme comes packed with 48 different camera presets that include booms, dollies, sweeps, and more. Choose a boom and get the option to boom to the bottom right, bottom, left, top right, up, and much more.
The drop zones in theme work with both pictures & video. The intuitive drop zone controls make it easy to input media. Simply find the drop zone controls in the inspector window and double click the drop zone. Final Cut will then ask the user to input media. Click on the media and choose apply.
Established in 2006, Aliso Viejo, California-based Pixel Film Studios is an innovative developer of visual effects tools for the post-production and broadcast community. Their products are integrated with popular non-linear editing and compositing products from Apple FCPX. All Apple, the Apple logo, Mac OS X, and Macintosh are registered trademarks of Apple Inc. in the U.S. and/or other countries. All other trademarks and trade names are the property of their respective owners.