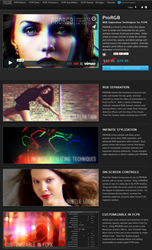 ProRGB allows users to isolate and manipulate the red, green, and blue channels of pictures and videos
Aliso Viejo, California (PRWEB) December 17, 2014
Motion Graphics artist at Pixel Film Studios have announced the release of a new plugin ProRGB designed exclusively for Final Cut Pro X.
"ProRGB allows users to isolate and manipulate the red, green, and blue channels of pictures and videos" Said Christina Austin, CEO of Pixel Film Studios. "When adding a ProRGB Transition, the user will appreciate how easy it is to use.
ProRGB is a Final Cut Pro X effect that allows users to isolate and manipulate the red, green, and blue channels of pictures and videos. Utilize simple on-screen controls to divide the channels and control blur, opacity, and blend settings with controls found in the inspector window. Generate energetic prism effects or create subtle chromatic aberration in Final Cut Pro X.
Pro RGB comes packed with basic prism, dynamic prism, basic RGB separation, and advanced RGB separation effect presets. Each preset comes with unique controls that allow users to manipulate individual channels and separation distance differently. Create energetic video sequences or distort subtlely with ProRGB.
Pixel Film Studios brings ease of use to ProRGB presets with on-screen controls. Drag a ProRGB preset on top of a video clip in the FCPX timeline. Drag and rotate the arrow control to manipulate the degree of separation and amount of blur. For more extreme blurring effects, increase the distortion exponent using the slider found in the inspector window.
Isolate each color channel and determine its luma sensitivity, opacity, and blur type within Final Cut Pro X. Using ProRGB users can access a new dimension of prism effects. Use "Channel" drop-down menu to blur one or two channels to create different look. Pixel Film Studios plugins combines both amazing effects with editing functionality to create useful FCPX tools.
Established in 2006, Aliso Viejo, California-based Pixel Film Studios is an innovative developer of visual effects tools for the post-production and broadcast community. Their products are integrated with popular non-linear editing and compositing products from Apple FCPX. All Apple, the Apple logo, Mac OS X, and Macintosh are registered trademarks of Apple Inc. in the U.S. and/or other countries. All other trademarks and trade names are the property of their respective owners.