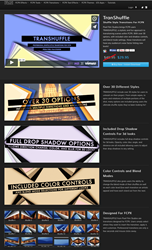 TranShuffle allows users a stylistic and fun approach to transitioning scenes within FCPX
Aliso Viejo, California (PRWEB) December 19, 2014
Theme and plugin developers from Pixel Film Studios have announced a new intro plugin for Final Cut Pro X entitled TranShuffle.
"TranShuffle allows users a stylistic and fun approach to transitioning scenes within FCPX," said Christiana Austin, CEO of Pixel Film Studios. "We've given our users the tools needed to customize shuffle transition effect."
Pixel Film Studios brings FCPX users TranShuffle, a stylistic and fun approach to transitioning scenes within FCPX. With over 30 options, with included color and shadow controls, and blend mode settings, these transitions will have any audience's wow factor hitting new levels!
TranShuffle include over 30 styles for users to unleash on their project. From simple wipes, to spins and rotations of multiple portions of the shot, many options are included, giving users the ultimate shuffle styles they've been looking for.
TranShuffle includes full drop shadow controls for 3D looks. Opacity, color, blur, angle, and distance are all included allowing users to adjust their drop shadows to any setting.
TranShuffle also gives users the ability to change the blend mode of their shuffles as well as each color level. Give each transition an artistic appeal and have each stand out from the next.
TranShuffle from Pixel Film Studios are transitions designed for FCPX. Users simply select where they want to insert the transition, apply it, and customize. Professional transitions are only a few seconds and mouse clicks away.
Established in 2006, Aliso Viejo, California-based Pixel Film Studios is an innovative developer of visual effects tools for the post-production and broadcast community. Their products are integrated with popular non-linear editing and compositing products from Apple FCPX. All Apple, the Apple logo, Mac OS X, and Macintosh are registered trademarks of Apple Inc. in the U.S. and/or other countries. All other trademarks and trade names are the property of their respective owners.