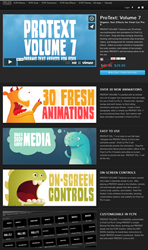 ProText Volume 7 allows users to animate pictures, videos, logos, and more with absolute ease
Aliso Viejo, California (PRWEB) December 23, 2014
Theme and plugin developers from Pixel Film Studios have announced a new text plugin for Final Cut Pro X entitled ProText Volume 7.
"ProText Volume 7 allows users to animate pictures, videos, logos, and more with absolute ease," said Christiana Austin, CEO of Pixel Film Studios. "We've given our users the tools needed to easily animate their media inside FCPX."
ProText Volume 7 features over 30 entirely new keyframeless text animations for Final Cut Pro X users. Drag and drop swinging, bouncing, twisting, and turning text presets atop of pictures, videos, and backgrounds for instantly awesome effects. Utilize on-screen controls to manipulate the scale, position, and rotation of text presets and allow ProText's self-animating nature to do the rest. ProText Volume 7 is a Final Cut Pro X exclusive plugin.
ProText Volume 7 is packed with an entirely new set of organic text movements that are ready for use in Final Cut Pro X. Choose from dynamic swings and swift moves, to thick rolling animations and quick throws. Create a fresh typography video or simply use ProText Volume 7 as a functioning lower third. Get creative with basic animation essentials in Final Cut Pro X.
ProText Volume 7 is an easy-to-use title layer. Navigate the ProText library to find a text animation preset. Final Cut Pro X will automatically preview the animations. Drag the desired preset above pictures and/or videos in the Final Cut Pro X timeline and utilize on-screen controls to reorient the text. ProText Volume 7 will do the rest.
ProText Volume 7 features on-screen controls that make it extremely simple to use. After placing a ProText preset in the timeline, controls will automatically appear that allow users to control scale, position, and rotation. Pixel Film Studios' tools combine functionality, amazing customization options, and usability for Final Cut Pro X users.
ProText Volume 7 is completely customizable in Final Cut Pro X. Using ProText is simple. Browse the titles library and drag and ProText preset into the FCPX timeline. Utilize the EDIT MODE checkbox to reveal basic instructions to tweak ProText Volume 7 presets to perfection. Stylize the text and watch ProText come to life.
Established in 2006, Aliso Viejo, California-based Pixel Film Studios is an innovative developer of visual effects tools for the post-production and broadcast community. Their products are integrated with popular non-linear editing and compositing products from Apple FCPX. All Apple, the Apple logo, Mac OS X, and Macintosh are registered trademarks of Apple Inc. in the U.S. and/or other countries. All other trademarks and trade names are the property of their respective owners.