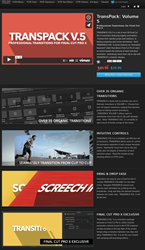 TransPack Volume 5 gives users the ability to manipulate a hard light tool to pull off an industry professional look
Aliso Viejo, California (PRWEB) December 26, 2014
Plugin and template developers from Pixel Film Studios have announced the TransPack Volume 5 Plugin for Final Cut Pro X.
"TransPack Volume 5 gives users the ability to manipulate a hard light tool to pull off an industry professional look" Said Christina Austin, CEO of Pixel Film Studios. "When users get their hands on TransPack Volume 5, a new level of professionalism will become the standard."
TransPack Volume 5 is a set of over 50 Final Cut Pro X transitions featuring organic animations. Choose from squishy jumps and rotations, to halting screeches and corner animations. Each TransPack Volume 5 preset features an "Animation Exponent" slider that allows Final Cut Pro X users to control tweak the intensity of each transition animation. Seamlessly move from clip to clip with TransPack Volume 5 simplistic designs.
TransPack Volume 5 is back with an entirely new set of thematic transitions in Volume 5. Choose from over 35 organic transitions ranging from dynamic jumps to halting screech animations. TransPack Volume 5 allows users to seamlessly move from clip to clip with absolute ease. Allow TransPack Volume 5's versatility to add a touch of kinetic energy to the scene.
TransPack Volume 5 is a simplistic yet effective set of transitions. TransPack allows users to control the animation exponent of each unique transition preset. Seamlessly move from clip to clip and easily alter the degree of distortion of each transition preset. Pixel Film Studios brings amazing effects to FCPX users.
Transitions are easy to use in Final Cut Pro X. Locate TransPack Volume 5 in the titles menu. Navigate TransPack presets and preview each animation by scrolling over the thumbnails. Drag and drop the desired transition between two video clips. TransPack Volume 5 will do the rest.
TransPack Volume 5 is a transition package exclusive to Final Cut Pro X. Utilize intuitive parameter controls found in the FCPX inspector window located on the top right of the screen. Simply drag a transition between two clips and allow TransPack Volume 5 to do the rest. Dazzle with amazing self-animating effects.
Established in 2006, Aliso Viejo, California-based Pixel Film Studios is an innovative developer of visual effects tools for the post-production and broadcast community. Their products are integrated with popular non-linear editing and compositing products from Apple FCPX. All Apple, the Apple logo, Mac OS X, and Macintosh are registered trademarks of Apple Inc. in the U.S. and/or other countries. All other trademarks and trade names are the property of their respective owners.