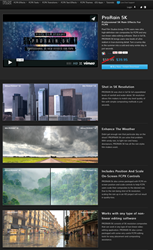 ProRain 5K is a compilation of new ultra high-definition rain composites for FCPX
Aliso Viejo, California (PRWEB) January 01, 2015
Pixel Film Studios, a leader of Final Cut Pro X plugins and themes, announced the release of a new self-animating title plugin entitled ProRain 5K
"ProRain 5K is a compilation of new ultra high-definition rain composites for FCPX" says Christina Austin, CEO of Pixel Film Studios. " Each ProRain 5K preset has customizable parameters to create the look users want."
Pixel Film Studios brings FCPX users new ultra high-definition rain composites for FCPX and any non-linear video-editing software. Shot in full 5k, ProRain 5K brings users new levels of ultra-realism in true-stunning detail. Turn a sunny day in the summer into a cold and rainy winter day in just seconds.
ProRain 5K was shot in full 5k full unparalleled levels of rainfall and water detail. 5K resolution allows film makers to match any level quality of film with simple compositing methods in just seconds.
Didn't get enough rain that particular day on the shoot? ProRain 5K can solve that problem. With windy rain, to light rain and heavy downpours, PRORAIN™ 5K has all the rain styles filmmakers want.
ProRain 5K also comes packaged with FCPX on-screen position and scale controls to help FCPX users scale their composites to the desired size. Due to the rain being shot at 5k resolution, scaling the rain up in an HD project will not result in quality-loss.
ProRain 5K consists of 5K resolution composites that can work in any type of non-linear video-editing application. ProRain 5K also comes packaged with some very useful FCPX editing tools for easy placement and compositing assistance.
Established in 2006, Aliso Viejo, California-based Pixel Film Studios is an innovative developer of visual effects tools for the post-production and broadcast community. Their products are integrated with popular non-linear editing and compositing products from Apple FCPX. All Apple, the Apple logo, Mac OS X, and Macintosh are registered trademarks of Apple Inc. in the U.S. and/or other countries. All other trademarks and trade names are the property of their respective owners.