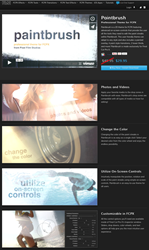 Our growing library of themes have given our users many choices and the Paintbrush theme adds a professional style to that library
Aliso Viejo, California (PRWEB) January 05, 2015
Pixel Film Studios FCPX plugin and theme designers have announced the release of the Paintbrush theme for Final Cut Pro X.
"Our growing library of themes have given our users many choices and the Paintbrush theme adds a professional style to that library." Says Christian Austin, CEO of Pixel Film Studios. "Paintbrush theme is a professional and clean style theme that our users will love."
Paintbrush is a 2D theme for FCPX featuring advanced on-screen-controls that provide the user all the tools they need to edit the paint streaks within Paintbrush. This user friendly theme can adapt to any style and also includes a painted overlay, 4 paint style transitions, 2 lower thirds, and more. Paintbrush is made exclusively for Final Cut Pro X.
Users can apply their favorite media to the drop zones in Paintbrush with ease. Paintbrush's drop zones are compatible with all types of media, so have fun editing.
Changing the color of the paint streaks in Paintbrush is as easy as a single click! Select the desired color from the color wheel and enjoy the endless possibility.
Intuitively manipulate the position, rotation and scale of the paint streaks using simple on-screen-controls. Paintbrush is an easy-to-use theme for all users.
All the control options needed are available inside of Final Cut Pro X's Inspector window. Sliders, drop downs, color wheels, and text options all help give users the most intuitive user experience.
Established in 2006, Aliso Viejo, California-based Pixel Film Studios is an innovative developer of visual effects tools for the post-production and broadcast community. Their products are integrated with popular non-linear editing and compositing products from Apple FCPX. All Apple, the Apple logo, Mac OS X, and Macintosh are registered trademarks of Apple Inc. in the U.S. and/or other countries. All other trademarks and trade names are the property of their respective owners.