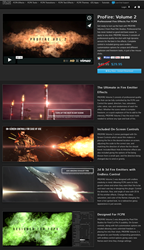 Users now have total control over a fire generator that easily manipulated
Aliso Viejo, California (PRWEB) January 08, 2015
Plugin creators from Pixel Film Studios have announced the release of ProFire Vol. 2. A fully customizable business presentation tool made specifically for Final Cut Pro X.
"Users now have total control over a fire generator thats easily manipulated," said Christina Austin, CEO of Pixel Film Studios. "ProFire Vol. 2 gives endless generated fire possibilities to any FCPX editor."
Get ready to turn up the heat with ProFire Vol. 2 from Pixel Film Studios. Professional fire has never looked so good and been easier to apply to any shot. ProFire Vol. 2 consists of professional quality fire shot with high dynamic sensors for the best in fire effects. Complete control is included, giving users endless customization options for unique and different explosion and firestorm looks, in just a few mouse clicks.
ProFire Vol. 2 consists of professional quality fire that can be fully controlled by the FCPX user. Control the speed, direction, hue, saturation, color, value, size, and randomness of each fire effect. Whether the scene needs a complex firestorm, or a quick explosion of fire to add to the intensity, ProFire Vol. 2 has the exact tools needed to achieve any type and look of fire.
ProFire Vol. 2 comes packaged with On-Screen Controls, which assist filmmakers in placing the fire in the desired location on-screen, adjusting the scale to the correct size, and matching the direction of where the fire should travel. Black Hole & Attractor effects are also included, giving the options of fire being thrown from a small spot, and fire direction being changed due to wind or gravity.
ProFire Vol. 2 was designed with endless creativity in mind, allowing FCPX users to fully govern where and when they want their fire to be. Control the direction, flow, and angle of view with 2D & 3D fire emitter effects. Change the value, saturation, and color of the flames, changing fire from a hot ignited look, to a radioactive gassy appearance in just seconds.
ProFire Vol. 2 was designed by Pixel Film Studios to be used for Final Cut Pro X editors. On-Screen controls, along with full customization options are included, allowing users unlimited freedom in placing fire into their shots. ProFire Vol. 2 is designed as user-friendly compositing generators, with endless control options giving users new flames each time they change settings.
Established in 2006, Aliso Viejo, California-based Pixel Film Studios is an innovative developer of visual effects tools for the post-production and broadcast community. Their products are integrated with popular non-linear editing and compositing products from Apple FCPX. All Apple, the Apple logo, Mac OS X, and Macintosh are registered trademarks of Apple Inc. in the U.S. and/or other countries. All other trademarks and trade names are the property of their respective owners.