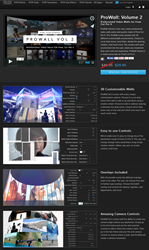 ProWall Volume 2 gives users the ability to manipulate and reposition drop zones inside FCPX
Aliso Viejo, California (PRWEB) January 10, 2015
Plugin and template developers from Pixel Film Studios have announced the ProWall Volume 2 Plugin for Final Cut Pro X.
"ProWall Volume 2 gives users the ability to manipulate and reposition drop zones inside FCPX," said Christina Austin, CEO of Pixel Film Studios. "When users get their hands on ProWall Volume 2, a new level of professionalism will become the standard."
ProWall Volume 2 comes with many unique customization options. Choose to curve drop zones from side to side or up and down using a rotation wheel. Choose to add or subtract spacing in between the drop zones. Choose which drop zones stay on the wall and which ones won't and much much more.
We've made sure it's easy to change any of the parameters inside of Final Cut Pro X. The user can change many parameters using simply rotation wheels, sliders, pop-ups, on-screen controls, and more.
With this bundle users can utilize different overlays for video. The user can choose from epic to fashion type overlays. Choose the bokeh overlay and controls the opacity, vignette, color adjustments, and more.
ProWall Volume 2 comes with the ability to create any camera angle without any keyframes. Simply go to the first frame and use the start position controls to select where the camera starts. Then go to the last frame and user the end camera controls to choose where it ends. And ProWall Volume 2 will create a camera movement.
Established in 2006, Aliso Viejo, California-based Pixel Film Studios is an innovative developer of visual effects tools for the post-production and broadcast community. Their products are integrated with popular non-linear editing and compositing products from Apple FCPX. All Apple, the Apple logo, Mac OS X, and Macintosh are registered trademarks of Apple Inc. in the U.S. and/or other countries. All other trademarks and trade names are the property of their respective owners.