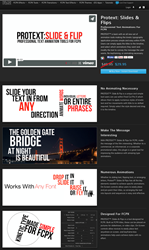 ProText Slide and Flip allows users to simply drag-and-drop text layer that self animates
Aliso Viejo, California (PRWEB) January 14, 2015
Developers of Final Cut Pro X effects and template plugins have announced a new plugin effect pack entitled ProText Slide and Flip from Pixel Film Studios.
"ProText Slide and Flip allows users to simply drag-and-drop text layer that self animates," said Christina Austin, CEO of Pixel Film Studios. "Blurring the line between professional and armature, ProText Slide and Flip is a definite game changer."
ProText is back with an all-new set of animation tools making the kinetic typography application process simple and easy within FCPX. Users can simply apply the titles to the timeline, and select which animations they want and modify the text to convey the message the user wants. No keyframing or animating is necessary.
ProText: Slide & Flip is a unique and simple tool users can use within Final Cut Pro X which allows them to apply numerous styles of kinetic text and fun movements with little to no skillset required. Simply select the styles desired and drag it to the timeline.
With ProText: Slides & Flips for FCPX, make the message of the film interesting. Whether it's a commercial, an infomercial, or a corporate promotional video, this plugin is a great tool for impressing the audience with amazing type animations.
Whether it's sliding text, flipping text, or arranging letters, Protext: Slides & Flips has all the key elements needed to achieve specific animations. On-Screen controls allow users to easily place and pinpoint their titles, so arranging the text into layouts and sequences is easy and effective.
ProText: Slides & Flips is a tool designed for FCPX. Built as FCPX titles, these can be placed on pictures for slideshows, or video clips. On-Screen controls allow novices to easily place text anywhere on screen, and keyframe-less animations help users achieve styles with no effort.
Established in 2006, Aliso Viejo, California-based Pixel Film Studios is an innovative developer of visual effects tools for the post-production and broadcast community. Their products are integrated with popular non-linear editing and compositing products from Apple FCPX. All Apple, the Apple logo, Mac OS X, and Macintosh are registered trademarks of Apple Inc. in the U.S. and/or other countries. All other trademarks and trade names are the property of their respective owners.