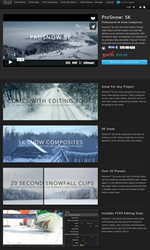 Prosnow 5K is a compilation of new ultra high-definition snow composites for FCPX
Aliso Viejo, California (PRWEB) January 24, 2015
Pixel Film Studios, a leader of Final Cut Pro X plugins and themes, announced the release of a new composite footage pack entitled Prosnow 5K.
"Prosnow 5K is a compilation of new ultra high-definition snow composites for FCPX" says Christina Austin, CEO of Pixel Film Studios. " Each Prosnow 5K preset has customizable parameters to create the look users want."
Prosnow 5K from Pixel Film Studios™ brings video editors and film makers new ultra high definition snow elements and composites. With over 35 different styles, all rendered in 5k resolution for the ultimate clarity and detail, Prosnow 5K will surely add those snow elements any film needs!
Prosnow 5K are snow composites for any non-linear video editing software. These composites can be used in Avid, Abode, and Final Cut Pro X with some simple compositing methods, and can be applied to any scene.
Prosnow 5K are 5k composites that allow for scaling up in HD without signal loss, or can be applied to 4k for ultimate clarity and realism.
Prosnow 5K comes with over 35 presets which can be stacked for multiple different looks. Simply apply it to the editing timeline above the desired clip, apply simple compositing methods and thats it. Multiple styles of snow are included included chaotic windy snow.
Prosnow 5K comes with intuitive and simple FCPX editing tools that assist film makers in correct scaling, color correction, and placement. Applying snow to clips has never been easier and time-saving in Final Cut Pro X.
Established in 2006, Aliso Viejo, California-based Pixel Film Studios is an innovative developer of visual effects tools for the post-production and broadcast community. Their products are integrated with popular non-linear editing and compositing products from Apple FCPX. All Apple, the Apple logo, Mac OS X, and Macintosh are registered trademarks of Apple Inc. in the U.S. and/or other countries. All other trademarks and trade names are the property of their respective owners.