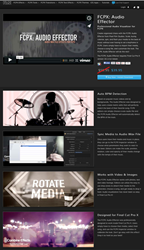 FCPX Audio Effector allows users customizable options to a set of 30 elegant title designs
Aliso Viejo, California (PRWEB) February 09, 2015
Developers and plugin specialist of Final Cut Pro X plugins have announced a new plugin entitled FCPX Audio Effector, taking FCPX to the next level.
"FCPX Audio Effector allows users customizable options to a set of 30 elegant title designs," said Christina Austin, CEO of Pixel Film Studios. "ProIntro Wedding is a time saver that our users will love."
Create organized chaos with the FCPX Audio Effector from Pixel Film Studios. Scale, bump, colorize, spin, and flash your media to the beat of music without ever having to set a keyframe in FCPX. Users simply have to import their media, choose a song file, and customize the look.
Based on popular music videos, the Audio Effector was designed to help users create metric edits that will perfectly match the beat of their favorite song. FCPX editors can simply choose a wav audio file and the FCPX Audio Effector will automatically detect the BPM of the track.
Once users have their media and music in place, they can go to the FCPX Inspector window to choose what parameters they want to react to the beat. Editors can make the scale, position, rotation, color and opacity of their media change with the tempo of their music.
The FCPX Audio Effector works with photos, text and video footage. Editors can utilize the easy-to-use drop zones to attach their media to the generator, choose a song, and get ready to drop it hard. Audio visualization has never been so easy in Final Cut Pro X.
The FCPX: Audio Effector was professionally designed to work inside Final Cut Pro X. Users simply have to choose their media, select their song, and use the FCPX Inspector window to calibrate the look. Don't go easy with this effect! Drop it as hard as your beat.
Established in 2006, Aliso Viejo, California-based Pixel Film Studios is an innovative developer of visual effects tools for the post-production and broadcast community. Their products are integrated with popular non-linear editing and compositing products from Apple FCPX. All Apple, the Apple logo, Mac OS X, and Macintosh are registered trademarks of Apple Inc. in the U.S. and/or other countries. All other trademarks and trade names are the property of their respective owners.