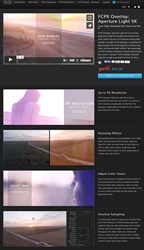 FCPX Overlays Aperture Light 5K gives users total control over flare overlays inside Final Cut Pro X
Aliso Viejo, California (PRWEB) February 17, 2015
Developers of FCPX plugins and theme templates have announced the release of a new color grade plugin for Final Cut Pro X entitled FCPX Overlays Aperture Light 5K from Pixel Film Studios
"FCPX Overlays Aperture Light 5K gives users total control over flare overlays inside Final Cut Pro X" Said Christina Austin, CEO of Pixel Film Studios. "FCPX Overlays Aperture Light 5K was professionally designed to add level of professionalism while maintaining an easy to use interface."
FCPX Overlays Aperture Light 5K is an all new plugin from Pixel Film Studios that brings FCPX users ease of access to a thousand varying flare overlays. Included in this package is a plethora of light footage that can be applied to enhance any video with beautiful light effects. Take advantage of FCPX Overlays innovative controls and enhance any scene in seconds. FCPX Overlays: Aperture Light 5K is made exclusively for Final Cut Pro X.
FCPX Overlay Aperture Light 5K is shot in beautiful 5K resolution, but comes in a variety of other formats including 4K, 2K and HD. This package is optimized to be light for the customer and intuitive for the user.
Jaw-dropping effects can be applied to any video within seconds using FCPX Overlay Aperture Light 5K. Users can add flicker to lens flares as well as adjust the contrast, brightness, light reflections and a variety of other parameters to achieve any type of flare.
Users have access to histogram level controls for color and opacity as well as a simple hue slider for the easiest color correction. Users can also take advantage of the color correction tab in Final Cut Pro X which will affect all files below the adjustment layer.
It's never been easier to switch out overlays than with FCPX Overlay. In FCPX Overlay Aperture Light 5K users can take advantage of an intuitive sample slider that changes the overlay image throughout the slider. There are a thousand frames of aperture light overlay styles included and users simply have to drag the intuitive slider control to view every one of them.
Established in 2006, Aliso Viejo, California-based Pixel Film Studios is an innovative developer of visual effects tools for the post-production and broadcast community. Their products are integrated with popular non-linear editing and compositing products from Apple FCPX. All Apple, the Apple logo, Mac OS X, and Macintosh are registered trademarks of Apple Inc. in the U.S. and/or other countries. All other trademarks and trade names are the property of their respective owners.