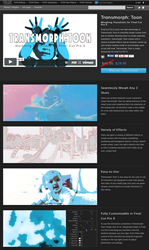 Transmorph Toon allows users to take advantage of smooth cartoon morph transitions
Aliso Viejo, California (PRWEB) February 26, 2015
Developers and plugin specialist of Final Cut Pro X plugins have announced a new transition entitled Transmorph Toon taking FCPX to the next level.
"Transmorph Toon allows users to take advantage of smooth cartoon morph transitions" Said Christina Austin, CEO of Pixel Film Studios. "Transmorph Toon is a time saver with style that our users will love."
Final Cut Pro X users can take advantage of Transmorph Toon to smoothly morph scenes from one to another allowing them to create seamless transitions. Transmorph Toon comes with a variety of preset effects and an intuitive control rig with simple controls made to accommodate users of any skill level. Transmorph Toon is made exclusively for Final Cut Pro X.
Users can achieve beautiful scene transitions using Transmorph Toon by taking elements of the initial scene and morphing them into elements of the ending shot. All elements meet in the middle for a fun and stylized look any video editor can enjoy.
Users are given a variety of different effects to morph scenes with including crystallizing, pixellating and hexagonal options. Using a sketch morph preset, users can add a sketchy line filter to their morphing transitions and create an all new, unique look.
Transmorph Toon is very easy for any user to use. All transitions are designed to work with photos and video of any media type and users are given several control options to tweak transitions to their liking.
To use the transitions contained in Transmorph Toon simply click on its designated folder in Final Cut Pro X and drag any transition onto the timeline between any two clips. From there take control of the transition by using the Inspector window in the top right corner to adjust parameters accordingly.
Established in 2006, Aliso Viejo, California-based Pixel Film Studios is an innovative developer of visual effects tools for the post-production and broadcast community. Their products are integrated with popular non-linear editing and compositing products from Apple FCPX. All Apple, the Apple logo, Mac OS X, and Macintosh are registered trademarks of Apple Inc. in the U.S. and/or other countries. All other trademarks and trade names are the property of their respective owners.