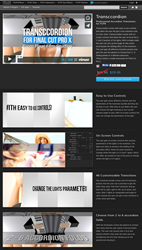 Transccordion allows users to add accordion style transitions to any FCPX editors project
Aliso Viejo, California (PRWEB) March 01, 2015
Theme and plugin developers from Pixel Film Studios have announced a new transition pack for Final Cut Pro X entitled Transccordion.
"Transccordion allows users to add accordion style transitions to any FCPX editors project." Said Christiana Austin, CEO of Pixel Film Studios. "We've given our users the tools needed to easily drag and drop their accordion transition between their FCPX media."
The user gets many different controls over the parameters of this transition bundle and they are all easy to use. With intuitive slider controls, the user can choose the light intensity and also adjust the camera angle of view. With on-screen controls the user can change the parameters of the light.
The user gets on-screen controls that controls parameters of the lights in the transition. A light illuminates a soft glow to enhance folding shadows and delivering a realistic accordion effect. Move the puck around to change where the light is in X and Y space. Move the slider up located on top of the puck to change where the light is in Z space.
This transition bundle comes with 40 transition presets that the user can customize to get the effect they want. Pick from transitions that go from left to right, right to left, up to down, and more. With two lights to manipulate combined with camera angle controls, users can customize a brand new transition with a few clicks.
With the 40 presets comes the options to choose how many fold the user wants in the accordion folds. the user can choose from 2 to 6 and choose whether they want the next clip to be revealed by the first one moving out or the second one moving in.
Established in 2006, Aliso Viejo, California-based Pixel Film Studios is an innovative developer of visual effects tools for the post-production and broadcast community. Their products are integrated with popular non-linear editing and compositing products from Apple FCPX. All Apple, the Apple logo, Mac OS X, and Macintosh are registered trademarks of Apple Inc. in the U.S. and/or other countries. All other trademarks and trade names are the property of their respective owners.