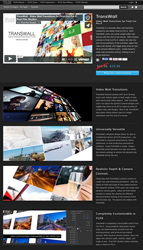 TransWall gives users total control transitioning between 36 drop zones built exclusively for FCPX users
Aliso Viejo, California (PRWEB) February 25, 2015
Plugin creators from Pixel Film Studios have announced the release of TransWall. A fully customizable transition pack made specifically for Final Cut Pro X.
"TransWall gives users total control transitioning between 36 drop zones built exclusively for FCPX users," said Christina Austin, CEO of Pixel Film Studios. "TransWall gives endless possibilities to any Final Cut Pro X editor."
TransWall is a versatile video wall transition created for use within Final Cut Pro X. With TransWall, users can create unique video wall layouts with the click of the mouse. With intuitive controls in Final Cut Pro X, editors can alter the start & end positions of the transition, adjust the video-wall spread, and toggle drop-zones on and off to achieve different looks. Create dynamic video wall transitions without having to set a single keyframe.
TransWall features presets with up to 36 drop zones with realistic depth of field, angle of view, and camera path offset options. With TransWall, users can adjust the spread of preset designs and toggle drop zones on & off to create an array of unique video wall designs. Best of all, TransWall's drop-down menus allows users to change animations with the click of a mouse.
TransWall's simplistic design allows its style to complement almost all FCPX productions. Use TransWall in corporate presentations, family slideshows, or even production promotional creations. Using TransWall is simple. Drag a TransWall preset between two clips and tweak the camera settings to achieve the desired look, TransWall will do the rest.
Freely play with TransWall's camera controls to create new and interesting animations. With the Depth of Field and Angle of View sliders found in the inspector window, FCPX users can create ultra dynamic camera paths. Utilize the Path Offset controls to sweep the camera into different directions before arriving at the location of the second video clip. The options are endless with TransWall.
TransWall is completely customizable within Final Cut Pro X. Using simplistic drop-down menus, users can keyframelessly animate from any starting position, and arrive at any ending position. With intuitive camera controls, users can adjust the camera's path, rotation, depth, and angle of view. Pixel Film Studios makes amazing easy in Final Cut Pro X.
Established in 2006, Aliso Viejo, California-based Pixel Film Studios is an innovative developer of visual effects tools for the post-production and broadcast community. Their products are integrated with popular non-linear editing and compositing products from Apple FCPX. All Apple, the Apple logo, Mac OS X, and Macintosh are registered trademarks of Apple Inc. in the U.S. and/or other countries. All other trademarks and trade names are the property of their respective owners.