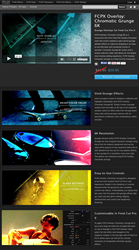 FCPX Overlay Chromatic gives users total control over 6k lens dirt overlays inside Final Cut Pro X
Aliso Viejo, California (PRWEB) February 28, 2015
Developers of FCPX plugins and theme templates have announced the release of a new overlay plugin for Final Cut Pro X entitled FCPX Overlay Chromatic Grunge 6K from Pixel Film Studios.
"FCPX Overlay Chromatic gives users total control over 6k lens dirt overlays inside Final Cut Pro X," said Christina Austin, CEO of Pixel Film Studios. "FCPX Overlay Chromatic was professionally designed to add level of fun while maintaining an easy to use interface."
FCPX Overlay Chromatic Grunge 6K is a resourceful tool from Pixel Film Studios that gives users the control needed to add colorful grunge splatter effects to videos by dropping in an easy-to-use title layer and composite scenes in seconds. Chromatic Grunge 6K comes with a texture selection slider that allows for the fastest most intuitive editing experience. FCPX Overlay Chromatic Grunge is a Final Cut Pro X exclusive.
Users are given control of shadows, midtones and highlights individually with FCPX Overlay Chromatic Grunge 6K. Simply choose a grunge sample from the slider at the top of the Inspector window, select an effect style from the pop-down menu and colorize grunge textures with an assortment of different color combinations within seconds.
Grunge textures within FCPX Overlay Chromatic Grunge are shot using 6K resolution footage using top of the line industry equipment and can be used within projects of any resolution below 6K as well. Benefit from the use of crisp splatter effects, or blur grunge for a smoother, more even style. The options are unlimited using FCPX Overlay Chromatic Grunge.
FCPX Overlay Chromatic Grunge 6K is designed with intuitive Final Cut Pro X inspector presets. Users are presented with simple published parameters providing an experience of an efficient workflow. One feature: Thresholding, is an option that lets users limit the space that grunge effects take up. Users are also given scaling, flipping, enhancement and control over brightness flickering.
To apply FCPX Overlay Chromatic Grunge 6K to any scene drag and drop the included title layer on top of footage in the FCPX timeline. Next, select the title effect and navigate to the Inspector window in the top right side of Final Cut Pro X where users can find all the controls necessary to manipulate chromatic grunge effects.
Established in 2006, Aliso Viejo, California-based Pixel Film Studios is an innovative developer of visual effects tools for the post-production and broadcast community. Their products are integrated with popular non-linear editing and compositing products from Apple FCPX. All Apple, the Apple logo, Mac OS X, and Macintosh are registered trademarks of Apple Inc. in the U.S. and/or other countries. All other trademarks and trade names are the property of their respective owners.