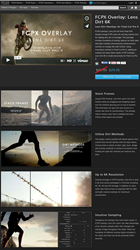 FCPX Overlays Lens Dirt gives users total control over 6k lens dirt overlays inside Final Cut Pro X
Aliso Viejo, California (PRWEB) March 04, 2015
Developers of FCPX plugins and theme templates have announced the release of a new overlay plugin for Final Cut Pro X entitled FCPX Overlays Lens Dirt from Pixel Film Studios.
"FCPX Overlays Lens Dirt gives users total control over 6k lens dirt overlays inside Final Cut Pro X" Said Christina Austin, CEO of Pixel Film Studios. "FCPX Overlays Lens Dirt was professionally designed to add level of fun while maintaining an easy to use interface."
FCPX Overlays Lens Dirt from Pixel Film Studios brings FCPX users an exciting overlay tool for adding lens dirt to footage. This package includes hundreds of overlay options for both dark and light overlays and extensive enhancement controls to change the look further. Using innovative controls in Final Cut Pro X, adding an overlay has never been easier. FCPX Overlays Lens Dirt is made exclusively for Final Cut Pro X.
Using FCPX Overlay Lens Dirt users can stack frames easily by dragging and dropping layers into the timeline placing one on top of another. This technique can give the user access to a whole new level of customization. The already robust variety users have available becomes infinite when layers are stacked.
This plugin comes packed with blend options that control how the dirt blends with the layer below. Choose from a variety of dark, light, burn, dodge and overlay methods to achieve the perfect look. Finding the right dirt method can improve any shot.
Overlay footage in FCPX Overlay Lens Dirt is shot in 6K and comes packaged in 4 formats including 6K, 5K, 4K and HD footage. In addition to sizes, users also have access to separate files for dark and light colored overlays for maximum convenience.
Swapping out overlays has never been easier. In FCPX Overlay Lens Dirt users can take advantage of an intuitive sample slider that changes the overlay image throughout the slider. There are hundreds of different overlay styles included in the slider and they can all be achieved within seconds.
Established in 2006, Aliso Viejo, California-based Pixel Film Studios is an innovative developer of visual effects tools for the post-production and broadcast community. Their products are integrated with popular non-linear editing and compositing products from Apple FCPX. All Apple, the Apple logo, Mac OS X, and Macintosh are registered trademarks of Apple Inc. in the U.S. and/or other countries. All other trademarks and trade names are the property of their respective owners.