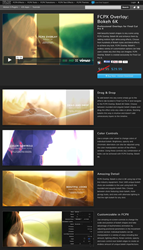 FCPX Overlay Bokeh 6K allows users to create the mood and set the tone with this useful plugin.
Aliso Viejo, California (PRWEB) March 11, 2015
Theme and plugin developers from Pixel Film Studios have announced a new overlay pack for Final Cut Pro X, entitled FCPX Overlay Bokeh 6K.
"FCPX Overlay Bokeh 6K allows users to create the mood and set the tone with this useful plugin," said Christiana Austin, CEO of Pixel Film Studios. "We've given our users the tools needed to easily color grade their media inside FCPX."
Add beautiful bokeh shapes to any scene using FCPX Overlay Bokeh 6K and enhance them by adding realistic light defocusing effects. Users can choose from hundreds of Bokeh styles and blend effects to achieve any look. FCPX Overlay Bokeh's endless variety of customization options can help users create any shot they can imagine. FCPX Overlay Bokeh is created exclusively for Final Cut Pro X.
To add bokeh into any scene, simply go to the effects tab located in Final Cut Pro X and navigate to the FCPX Overlay Bokeh 6K folder. Choose between rounded and angular bokeh shapes and drag the effect onto any video or photo. Stacking bokehs this way is intuitive and doesn't add unnecessary layers to the timeline.
Use a simple color wheel to change colors of individual bokeh. Brightness, opacity and chromatic aberration can also be adjusted using the color manipulation section of the effects window. Using these controls in FCPX Overlay Bokeh 6K can create an innumerable combination of looks.
FCPX Overlay Bokeh is shot in 6K, using top of the line industry equipment. Over 1,400 unique bokeh shots are available to the user using both the rounded and angular bokeh files. Choose between shots featuring clean bokeh, more grungy looks, and ones with alternate lighting to find the right bokeh for any shot.
Use amazing on-screen-controls to change the scale and position of bokeh shapes and take advantage of keyframe-less animation by adjusting positional parameters in the movement control section. Individual bokehs can be manipulated in a variety of ways including blur amount, lighting effects, flicker controls, opacity and even control over bokeh edges to create an endless amount of unique bokeh imperfections.
Established in 2006, Aliso Viejo, California-based Pixel Film Studios is an innovative developer of visual effects tools for the post-production and broadcast community. Their products are integrated with popular non-linear editing and compositing products from Apple FCPX. Apple, the Apple logo, Mac OS X, and Macintosh are registered trademarks of Apple Inc. in the U.S. and/or other countries. All other trademarks and trade names are the property of their respective owners.