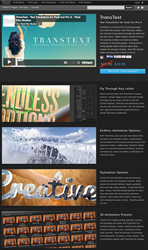 TransText gives users control to transition into any part of text inside FCPX
Aliso Viejo, California (PRWEB) March 12, 2015
Final Cut Pro X plugin specialists have announced the release of the TransText from Pixel Film Studios.
"TransText gives users control to transition between clips by zooming into any part of text to reveal the next slide," said Christina Austin, CEO of Pixel Film Studios. "TransText is a great tool to have for any Final Cut Pro X editor."
TransText is a Final Cut Pro X exclusive plugin from Pixel Film Studios. With TransText, editors can animate in text and fly through any letter to reveal the next scene. Utilize intuitive controls found in the inspector window to create endless variations of TransText presets. Extrude text to create greater depth and even add a drop shadow for stronger contrast. Pixel Film Studios makes it easy to create an amazing finished product.
Frame into any letter with TransText's intuitive controls. Simply toggle on the Animation Guide and align the on-screen controls to the end location desired. TransText will seamlessly zoom into the next scene every time. For the advanced user, adjust the animation speed method to tweak TransText to perfection.
With TransText, users can pick and choose from 30 preset text animation styles, or personalize text animations with intuitive controls found in the inspector window. Additionally, TransText allows users to customize camera animations, and end animations to create an endless combination of TransText styles.
Create 3D text transitions using the extrusion options found in the inspector window. Easily extend the extrude distance, apply a gradient, and even add a drop shadow. Using TransText is easy. Drag a Trans Text preset between to video clips and stylize the text and text animation options. Next select which letter to zoom into with a handy on-screen control. TransText will do the rest.
Choose from fading, scaling, growing, rotating, and springing text styles with TransText's 30 animation presets. Easily customize any presets to better match the scene. Animate by word, letter, and line. Alter the direction of animation from backwards, forwards, or even random. The customization options with TransText are endless.
Established in 2006, Aliso Viejo, California-based Pixel Film Studios is an innovative developer of visual effects tools for the post-production and broadcast community. Their products are integrated with popular non-linear editing and compositing products from Apple FCPX. All Apple, the Apple logo, Mac OS X, and Macintosh are registered trademarks of Apple Inc. in the U.S. and/or other countries. All other trademarks and trade names are the property of their respective owners.