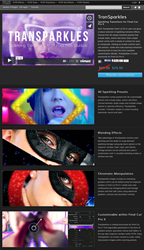 TranSparkles offers 40 unique sparkle transitions that will spark our users interest
Aliso Viejo, California (PRWEB) March 07, 2015
Pixel Film Studios, a leader of FCPX transitions, announced the release of a New transition pack entitled TranSparkles.
"TranSparkles offers 40 unique sparkle transitions that will spark our users interest" Says Christian Austin, Pixel Film Studios CEO. "Each transition features intuitive controls our users will love."
With TranSparkles Final Cut Pro X users are given a robust selection of sparkling transition effects. Choose from 40 unique transition presets that include wipes, zooms and slices. Each unique preset comes with a variety of controls for users to manipulate. Utilizing on-screen controls users can position, rotate and scale zooming transitions allowing them to have the most complete customization abilities. TranSparkles is made exclusively for Final Cut Pro X.
TranSparkles comes packed with 40 customizable presets that include wipes, zooms and slices. Choose between single shape and multiple shape presets to optimize efficiency. TranSparkles includes 7 fantastic shapes to utilize including diamonds, hearts and stars.
Take advantage of TranSparkles intuitive color blending and the ability to swap between sparkling footage using pop-down options in the Inspector window. Dark, Light, and Vibrant footage presets can be selected and used in combination with 11 excellent blending modes to achieve any look.
TranSparkles shapes include an overlaying gradient which can be edited using the Inspector window in Final Cut Pro X. Create new color combinations by changing blend and footage presets and then edit colors using advanced gradient, contrast and saturation controls.
TranSparkles is created exclusively for Final Cut Pro X. Find adjustable parameters in the form of gradient pickers, pop-down menus and sliders, in the top-right inspector window within FCPX. Enjoy TranSparkles' on-screen controls to scale, rotate, and position shapes within zooming presets.
Established in 2006, Aliso Viejo, California-based Pixel Film Studios is an innovative developer of visual effects tools for the post-production and broadcast community. Their products are integrated with popular non-linear editing and compositing products from Apple FCPX. All Apple, the Apple logo, Mac OS X, and Macintosh are registered trademarks of Apple Inc. in the U.S. and/or other countries. All other trademarks and trade names are the property of their respective owners.