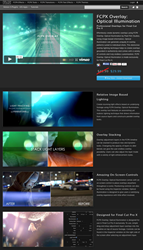 Optical Illumination offers dynamic overlays that generate patterns suited to each individual shot
Aliso Viejo, California (PRWEB) March 15, 2015
Pixel Film Studios, a leader of FCPX effects announced the release of a new overlay, entitled Optical Illumination.
"Optical Illumination offers dynamic overlays that generate patterns suited to each individual shots," says Christian Austin, Pixel Film Studios CEO. "Each overlay features intuitive controls our users will love."
Effortlessly create dynamic overlays using FCPX Overlay Optical Illumination by Pixel Film Studios. Using image based information, Optical Illumination can generate uniquely lit overlay patterns suited to individual shots. This distinctive overlay lighting technique helps to create overlays grounded in authenticity and comes with a variety of controls and truly endless customization. FCPX Overlay Optical Illumination is made exclusively for Final Cut Pro X.
Create stunning light effects based on underlying footage using FCPX Overlay Optical Illumination. This overlay tool features an astonishing yet realistic lighting technique that draws information from source layers and constructs parallel overlay looks.
Overlay adjustment layers in the FCPX timeline can be stacked to produce new and dynamic looks. Changing the opacity of layers to alter blends can give the user endless overlay possibility. Users can also adjust the layer mode with a variety of light enhancement styles.
FCPX Overlay Optical Illumination comes with an on-screen-control to place overlays anywhere throughout a scene. Positioning controls can also be found using the Inspector window. Optical Illumination is designed to give users a satisfying overlay experience with little effort involved.
FCPX Overlay Optical Illumination is designed for use in Final Cut Pro X exclusively. To use, simple drag and drop adjustment layer overlays into the timeline on top of source footage. Controls can be found in the Inspector window on the right side of the screen after selecting an adjustment layer.
Established in 2006, Aliso Viejo, California-based Pixel Film Studios is an innovative developer of visual effects tools for the post-production and broadcast community. Their products are integrated with popular non-linear editing and compositing products from Apple FCPX. All Apple, the Apple logo, Mac OS X, and Macintosh are registered trademarks of Apple Inc. in the U.S. and/or other countries. All other trademarks and trade names are the property of their respective owners.