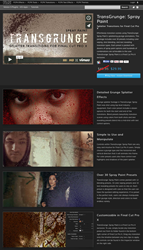 TransGrunge Spray Paint gives users total control over spray paint grunge splatter effects and more
Aliso Viejo, California (PRWEB) March 20, 2015
Theme and plugin developers from Pixel Film Studios have announced a new transition for Final Cut Pro X editors, entitled TransGrunge Spray Paint.
"TransGrunge Spray Paint gives users total control over spray paint grunge splatter effects and more," said Christiana Austin, CEO of Pixel Film Studios. "We've given our users the tools needed to add a true grunge style to their FCPX project."
Effortlessly transition scenes using TransGrunge Spray Paint's splattering grunge animations. This package includes over 30 presets including color wiping, shot blending, and text revealing transition types. Each preset is packed with dozens of spray paint options and hundreds of combinations are achievable to the user. TransGrunge Spray Paint is a Final Cut Pro X exclusive.
Grunge splatter footage in TransGrunge Spray Paint was shot using top level industry equipment. Each color preset includes a dozen options for both the start and end of the transitions. Blend presets beautifully transition scenes using colors from both shots and text revealing presets blend into a mid-shot with text control options.
Controls within TransGrunge Spray Paint are very easy and intuitive for Final Cut Pro X users. Simply choose a grunge type and the horizontal and vertical direction that it will animate into frame. For color presets, users also have control over highlights and shadows of the paint splatter.
TransGrunge Spray Paint comes packed with 12 blending presets, 10 color wiping presets and 10 text revealing presets for users to rely on. Each preset is designed with care so that the user can have the quickest editing experience. If no preset is the perfect look, users can always manipulate their grunge style, direction and colors to meet endless variety.
TransGrunge Spray Paint is a Final Cut Pro X exclusive. To use, simply locate any transition preset out from its folder found in the bottom right corner of Final Cut Pro X. Drag any transition onto the timeline between any two clips to apply. All controls can be found in the Inspector window on the right side.
Established in 2006, Aliso Viejo, California-based Pixel Film Studios is an innovative developer of visual effects tools for the post-production and broadcast community. Their products are integrated with popular non-linear editing and compositing products from Apple FCPX. All Apple, the Apple logo, Mac OS X, and Macintosh are registered trademarks of Apple Inc. in the U.S. and/or other countries. All other trademarks and trade names are the property of their respective owners.