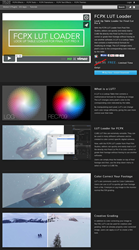 FCPX LUT Loader gives users total control to load LUT files directly into Final Cut Pro X
Aliso Viejo, California (PRWEB) March 18, 2015
Theme and plugin developers from Pixel Film Studios have announced a new tool for Final Cut Pro X editors entitled FCPX LUT Loader.
"FCPX LUT Loader gives users total control to load LUT files directly into Final Cut Pro X," said Christiana Austin, CEO of Pixel Film Studios. "We've given our users the tools needed to add LUT overlays to their FCPX project."
With this free LUT Loader plugin from Pixel Film Studios, editors can quickly and easily load any LUT file directly to Final Cut Pro X. This LUT tool allows users to color correct or add a color grade without having to use another software. The LUT changes every pixel's color to the corresponding color indicated by the table.
A LUT is a Lookup Table that contains a mathematical formula for modifying an image. The LUT changes every pixel's color to the corresponding color indicated by the table. LUT's are extremely versatile files. They can be used in many different softwares and be created to color correct specific digital cameras.
The FCPX LUT Loader from Pixel Film Studios allows editors to quickly and easily load a LUT file directly into Final Cut Pro X to color correct or grade their footage without having to use another software. Users can simply drop the loader on top of their footage and then, use the drop down menu to select or import a LUT Cube file.
LUT's are commonly used for Color Calibration. Users can use a LUT to quickly get their footage from a flat, Cinestyle or Log image to the monitor normal Rec709 grading. In addition to color correcting your image to Rec709, LUT's can be used for creative color grading. With an already properly color corrected image, users can apply a LUT to create a film look. If the LUT doesn't fully achieve the desired look, editors can use the built-in customization controls to adjust the strength, contrast, brightness and saturation of their image.
Established in 2006, Aliso Viejo, California-based Pixel Film Studios is an innovative developer of visual effects tools for the post-production and broadcast community. Their products are integrated with popular non-linear editing and compositing products from Apple FCPX. All Apple, the Apple logo, Mac OS X, and Macintosh are registered trademarks of Apple Inc. in the U.S. and/or other countries. All other trademarks and trade names are the property of their respective owners.