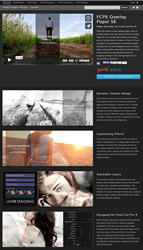 Paper 5K allows users to overlay a paper filter to their media inside Final Cut Pro X
Aliso Viejo, California (PRWEB) March 26, 2015
Designers and Professionals of FCPX plugins have announced a new tool entitled Storyboard Corporate from Pixel Film Studios.
"Paper 5K allows users to overlay a paper filter to their media inside Final Cut Pro X" Said Christina Austin, CEO of Pixel Film Studios. "FCPX Overlay Paper 5K saves time and is an effective tool for any FCPX editor."
Pixel Film Studios makes adding paper filters to footage easier than ever thanks to FCPX Overlay Paper 5K. This overlay tool contains an endless level of customization for users of Final Cut Pro X. Included in this package are thousands of paper overlays that can be swapped by use of a simple slider control and an abundance of enhancement controls which can be adjusted within the Inspector window. FCPX Overlay Paper 5K is a Final Cut Pro X exclusive.
FCPX Overlay Paper 5K comes loaded with over 20 ranged presets each including hundreds of paper overlay options to choose from. A master file including all ranges is also included. Paper overlays vary from rough to soft textures and have an array of different marks including cuts, crumples, creases and more.
This overlay tool includes an infinite amount of effect customizations. 17 unique effect styles are available to choose from and each one has its own special qualities. From there users can also control the colors, values and a plethora of other enhancement controls to achieve an extensive range of looks.
If one paper overlay is not enough users can always stack overlay layers on top of one another to create new, complex overlay designs. The already robust level of customization becomes infinite once layer stacking is introduced. Combine different paper images with different effect styles to create dynamic overlays.
FCPX Overlay Paper 5K is designed exclusively for use within Final Cut Pro X. Upon completed installations, this tool can be used by simply locating the FCPX Overlay Paper 5K folder within the titles menu in Final Cut Pro X. From there users can drag and drop overlays on top of footage within the FCPX timeline. Parameters can be adjusted in the Inspector window on the right side of the screen.
Established in 2006, Aliso Viejo, California-based Pixel Film Studios is an innovative developer of visual effects tools for the post-production and broadcast community. Their products are integrated with popular non-linear editing and compositing products from Apple FCPX. All Apple, the Apple logo, Mac OS X, and Macintosh are registered trademarks of Apple Inc. in the U.S. and/or other countries. All other trademarks and trade names are the property of their respective owners.