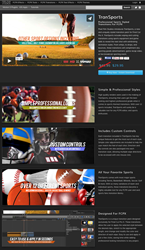 TranSports is a compilation of 12 sports transitions made exclusively for Final Cut Pro X
Aliso Viejo, California (PRWEB) March 29, 2015
Final Cut Pro X plugin designers have revealed a new transition from Pixel Film Studios, entitled TranSports.
"TranSports is a compilation of 12 sports transitions made exclusively for Final Cut Pro X," said Christiana Austin, CEO of Pixel Film Studios. "We've given our users the tools needed to effortlessly transition using this cool sports transition tool."
Pixel Film Studios introduces TranSports, a new and uniquely styled transition pack for Final Cut Pro X. TranSports includes wiping and cutting transitions using sports equipment and game balls to reveal the next shot with exhilarating animation styles. From whips, to drops, and bounces, these transitions will compliment any sporting goods advertisement, game recap video, or live broadcast sporting event.
High quality renders were used in the making of TranSports, ensuring that users get the best looking and highest professional grade when it comes to sports themed transitions. With over 12 sports included, TranSports will surely be a valuable tool for any FCPX editor, and sports enthusiast.
Each transition included in TranSports has key unique features to get the most out of each style. Simple color adjustments are included to help the user match the feel of each shot. Direction and flip controls are also packaged into each transition style, allowing multiple wipe directions to be accessed with one mouse click.
TranSports comes with most major sports including Tennis, Basketball, Billiards, Soccer, Golf & more. With so many variations of team and individual sports, these transitions become a highly valuable tool for any FCPX user and avid sports fan's transition library.
TranSports is a unique transition pack designed exclusively for Final Cut Pro X. These transitions allow the user to apply the selected style between the desired clips, stretch to the appropriate length, and change and modify the color and direction of each wipe. Easy to use and apply in just a few clicks, saving time while adding professional looking transitions to any project.
Established in 2006, Aliso Viejo, California-based Pixel Film Studios is an innovative developer of visual effects tools for the post-production and broadcast community. Their products are integrated with popular non-linear editing and compositing products from Apple FCPX. All Apple, the Apple logo, Mac OS X, and Macintosh are registered trademarks of Apple Inc. in the U.S. and/or other countries. All other trademarks and trade names are the property of their respective owners.