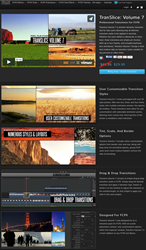 TranSlice Volume 7 comes packaged with over 50 style transitions inside FCPX
Aliso Viejo, California (PRWEB) January 27, 2015
Motion Graphics artists at Pixel Film Studios have announced the release of a new transition tool, TranSlice Volume 7, designed exclusively for Final Cut Pro X.
"TranSlice Volume 7 comes packaged with over 50 style transitions inside FCPX," said Christina Austin, CEO of Pixel Film Studios. "When adding a TranSlice Slide, users will have fun using this easy to learn FCPX Plugin."
Translice Volume 7 is another fantastic transition tool for FCPX users allowing easy and effective transition styles to be applied in seconds. Whether the user's skill set is advanced or entry level, these transitions are simple yet intuitive. With up to four frames, and included keyframe-less animations, Translice Volume 7 brings a fresh and creative take on transition styles suitable for any picture or video.
Translice Volume 7 comes packaged with over 50 style presets. With one two, three, and four frame styles with multiple animation presets, the options are endless. These transitions even allow for user customization with selectable animation points, allowing more control over which portion of the screen is revealed in each transition.
Tint, Scale, And Border Options
Translice Volume 7 includes other customization options from border color and size, along with drop zone tint and blend options, giving FCPX users even more creative freedom without the task of animating.
Drag & Drop Transitions
Translice Volume 7 consists of simple drag & drop transition styles in FCPX. Simply drag the desired transition and apply it between clips. Stretch or shrink it on the timeline to adjust the transition to the wanted length. It's that simple to apply any style to the user's project.
Designed For FCPX
Translice Volume 7 was designed as a transition pack for FCPX. With on-screen placement controls, and customization options within the inspector window, Translice Volume 7 is a fresh addition to any FCPX tool library.
Established in 2006, Aliso Viejo, California-based Pixel Film Studios is an innovative developer of visual effects tools for the post-production and broadcast community. Their products are integrated with popular non-linear editing and compositing products from Apple FCPX. All Apple, the Apple logo, Mac OS X, and Macintosh are registered trademarks of Apple Inc. in the U.S. and/or other countries. All other trademarks and trade names are the property of their respective owners.