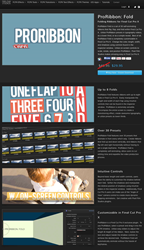 ProRibbon Fold gives control over titles and customizable transitions to illustrate a fun animated unfolding ribbon
Aliso Viejo, California (PRWEB) January 31, 2015
Plugin creators from Pixel Film Studios have announced the release of ProRibbon Fold. A fully customizable Ribbon Fold pack pack made specifically for Final Cut Pro X.
"ProRibbon Fold gives control over titles and customizable transitions to illustrate a fun animated unfolding ribbon." Said Christina Austin, CEO of Pixel Film Studios. "ProRibbon Fold gives endless generated possibilities to any FCPX editor"
ProRibbon Fold is a set of 30 self-animating ribbons that flip, flop, and fold within Final Cut Pro X. Utilize ProRibbon presets in typography videos, as a lower third, or as a simple reveal. Best of all, ProRibbon Fold is completely customizable in Final Cut Pro X. Change the color, length, width, and shadows using controls found in the inspector window. Utilize on-screen controls to scale, rotate, and position ProRibbon. Pixel Film Studios makes amazing easy in Final Cut Pro X.
ProRibbon Fold features ribbons with up to eight folds in Final Cut Pro X. Easily manipulate the length and width of each flap using intuitive controls that can be found in the inspector window. ProRibbon is extremely versatile. Encompass the entire screen to create a transitioning effect, create awesome typography, or utilize presets as lower thirds.
ProRibbon Fold features over 30 presets that animate in from every which way. Create ribbons that fold up and down vertically, and ribbons that flip left and right horizontally without having to set a single keyframe. ProRibbon Fold is completely self-animating, allow users to cut editing time and expedite the video production process.
Beyond basic length and width controls, users have the ability to customize the shadow behind each fold. Soften the shadows and manipulate the relative position of shadows using intuitive sliders in the inspector window. Additionally, Final Cut Pro X users can make use of the "Angle of View" camera control to create more dynamic flapping animations. Get creative with Pixel Film Studios plugins.
ProRibbon is a Final Cut Pro X exclusive plugin. To use ProRibbon, select a preset and drag it into the FCPX timeline. Utilize easy sliders to adjust the length & height of the ribbon. Next, stylize the text and adjust tweak the shadow controls to achieve the desired look. ProRibbon Fold will automatically animate without the hassle of keyframes.
Established in 2006, Aliso Viejo, California-based Pixel Film Studios is an innovative developer of visual effects tools for the post-production and broadcast community. Their products are integrated with popular non-linear editing and compositing products from Apple FCPX. All Apple, the Apple logo, Mac OS X, and Macintosh are registered trademarks of Apple Inc. in the U.S. and/or other countries. All other trademarks and trade names are the property of their respective owners.