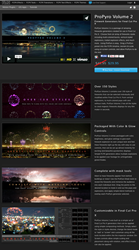 ProPyro Volume 2 is a set of 150 firework generators exclusively for Final Cut Pro X
Aliso Viejo, California (PRWEB) February 23, 2015
Motion Graphics artists at Pixel Film Studios have announced the release of a new plugin entitled ProPyro Volume 2 designed exclusively for Final Cut Pro X.
"ProPyro Volume 2 is a set of 150 firework generators built exclusively for Final Cut Pro X," said Christina Austin, CEO of Pixel Film Studios. "When adding a ProPyro Volume 2 user will explode with excitement as the use this pyro plugin made for FCPX."
ProPyro Volume 2 is a package of amazing fireworks generators created for use in Final Cut Pro X. Choose from an array of fireworks styles including multi-colored bursts, vertical styled explosions, trailed explosion effects, and much more. Using ProPyro is easy. Drag a ProPyro preset into the FCPX timeline, reorient & scale using on-screen controls, and allow ProPyro to do the rest.
ProPyro Volume 2 contains over 150 style of fireworks that can be selected individually and modified within Final Cut Pro X. From vertical explosions, to multi-colored pops with and without trails, ProPyro Volume 2 has all the styles to create majestic fireworks displays for any filmmaker in seconds.
ProPyro Volume 2 comes packaged with color, brightness, and glow settings to give each firework explosion its own unique look and feel. Have fireworks light up the sky with easy to use controls, that can be set up almost instantly for exciting and beautiful pyrotechnic displays. Simple FCPX generators allow multiple explosions to be applied over footage for unforgettable grand finales.
Want to have fireworks appear from behind buildings or trees? Use the ProPyro Mask tools to reveal the fireworks and immerse the audience into each individual shot. Drag the points to the desired location while masking in and out the pops and explosions. Apply simple blend methods to overlay each ProPyro generator selected.
ProPyro Volume 2 was built as a simple set of Final Cut Pro X generators that can be applied using simple compositing methods. Simply select the style or styles desired, change the blend mode to "add" or "screen" and customize using all the tools located within the the inspector window. On-Screen controls allow for simple scaling and placement along with rotation.
Established in 2006, Aliso Viejo, California-based Pixel Film Studios is an innovative developer of visual effects tools for the post-production and broadcast community. Their products are integrated with popular non-linear editing and compositing products from Apple FCPX. All Apple, the Apple logo, Mac OS X, and Macintosh are registered trademarks of Apple Inc. in the U.S. and/or other countries. All other trademarks and trade names are the property of their respective owners.