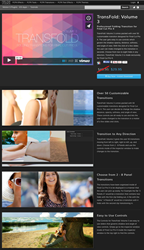 TransFold Volume 3 gives users total control over 50 transition presets built exclusively for FCPX users
Aliso Viejo, CA (PRWEB) February 27, 2015
Plugin creators from Pixel Film Studios have announced the release of TransFold Volume 3 for Final Cut Pro X.
"TransFold Volume 3 gives users total control over 50 transition presets built exclusively for FCPX users." Said Christina Austin, CEO of Pixel Film Studios. "TransFold Volume 3 gives endless possibilities to any Final Cut Pro X editor."
TransFold Volume 3 comes packed with 50 customizable transitions designed for Final Cut Pro X. The user can decide to change the shadow distance, opacity, softness, and angle of view. The published controls are easy to use allowing the editor to change direction of all transitions in a matter of a few slides and clicks.
TransFold Volume 3 gives the user 50 transitions with inspector controls for left to right, right to left, up, and down directions. Choose from 2 to 8 Panels and use the controls inside of the inspector window to make changes to the transition.
The transitions have been organized inside of Final Cut Pro X to be displayed in a manner that the user can pick up easily. For Example the file, "2 Panels A" is a transition that contains two folds with the first clip folding out. A file with the name " 4 Panels B" is a transition with 4 folds with the second clip transitioning in.
TransFold Volume 3 enables users to govern shadows, angle of views, speed of transition fold and much more. Simply go to the inspector window inside of Final Cut Pro X inside the inspector window to customize and utilize this fun and easy transition tool.
Established in 2006, Aliso Viejo, California-based Pixel Film Studios is an innovative developer of visual effects tools for the post-production and broadcast community. Their products are integrated with popular non-linear editing and compositing products from Apple FCPX. All Apple, the Apple logo, Mac OS X, and Macintosh are registered trademarks of Apple Inc. in the U.S. and/or other countries. All other trademarks and trade names are the property of their respective owners.