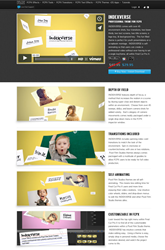 We take pride in our themes and IndexVerse™ is one that adds variety to our library
Aliso Viejo, California (PRWEB) May 02, 2014
Pixel Film Studios, Final Cut Pro X plugins, themes, and special effects artists announced today the availability of IndexVerse theme for Final Cut Pro X.
"We take pride in our themes and IndexVerse™ is one that adds variety to our library," says Christina Ausitn, Pixel Film Studios CEO "Our themes are made with our customers in mind."
IndexVerse comes with over 45 environment shots, four transitions, two lower thirds, two text screens, two title screens, a logo key, & background key. This fun filled theme is perfect for youth presentations or a scrapbook montage. IndexVerse is self-animating so that users can create a professional video without ever having to set a single keyframe, all within Final Cut Pro X.
This theme features depth of focus, a method that increases the realism in a scene by blurring super close and distant objects within an environment. Choose from over 45 sweeps, dollies, and boom camera shots for added variety. Each category of camera movements comes neatly packaged under a single drop down menu in the FCPX inspector window.
IndexVerse includes spinning index card transitions to match the look of the environment. Spin in clockwise or counterclockwise, with one or two rotations. Pixel Film Studios themes always comes packaged with a multitude of goodies to allow FCPX users to be ready for full video production.
Pixel Film Studios themes are all self-animating. This means less editing time for Final Cut Pro X users and more time enjoying their video creations. Use intuitive color wheels, sliders, and drop-down menus to edit the IndexVerse and other Pixel Film Studio themes alike.
Look toward the top right menu within Final Cut Pro X to find all of the customizable parameters within a Pixel Film Studio theme. IndexVerse has intuitive controls that make editing easy. Using a theme is easy, simply drop in personal media, choose the animation desired, and watch the project come to life.
Established in 2006, Aliso Viejo, California-based Pixel Film Studios is an innovative developer of visual effects tools for the post-production and broadcast community. Their products are integrated with popular non-linear editing and compositing products from Apple FCPX. All Apple, the Apple logo, and Macintosh are registered trademarks of Apple Inc. in the U.S. and/or other countries. All other trademarks and trade names are the property of their respective owners.