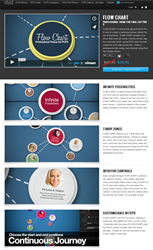 As the demand grows for a variety of quality themes, we aim to meet that demand, users are going to love Flow Chart
Aliso Viejo, California (PRWEB) May 22, 2014
Developers of Final Cut Pro X themes have announced the release of Flow Chart Theme from Pixel Film Studios.
"As the demand grows for a variety of quality themes, we aim to meet that demand." Says Christina Austin, CEO of Pixel Film Studios. "Users are going to love Flow Chart"
Flow Chart is a theme that allows Final Cut Pro X users to create a continuous journey without the use of keyframes. Flow Chart includes up to seven drop zones per scene, a theme overlay, logo key, and lower thirds-- giving FCPX users the tools needed for a full video production. Create a professional video simply, and intuitively using Pixel Film Studios themes.
Flow Chart is a special theme that allows Final Cut Pro X users to seamlessly navigate through a bubbly flow chart. Choose to go from any puck in FLOW CHART at any depth level using intuitive drop down menus. Control the rotation of the camera angles throughout the journey using a rotation dial.
Flow Chart features up to 7 drop zones with amazing customizable features. Choose to change the center color of the puck, the puck border, and even control the size of the Drop Zones within the scene. Drag and drop personal media into the Final Cut Pro X timeline to insert personal media in the designated Drop Zones.
Easily navigate through Flow Chart's controls in the inspector window. Color wheels, drop down menus, and simple sliders make it easy on Final Cut Pro X users when editing. To move about the scene, simply choose a start and end point for the camera. In the next scene, start the camera where the previous one ended. It's as simple as that!
Flow Chart is an FCPX exclusive, meaning is made easy and editable for Final Cut Pro X users. Completely alter the mood of Flow Chart using the theme overlay included within this theme package. Change the hue and saturation to give Flow Chart a fresh look.
Established in 2006, Aliso Viejo, California-based Pixel Film Studios is an innovative developer of visual effects tools for the post-production and broadcast community. Their products are integrated with popular non-linear editing and compositing products from Apple FCPX. All Apple, the Apple logo, Mac OS X, and Macintosh are registered trademarks of Apple Inc. in the U.S. and/or other countries. All other trademarks and trade names are the property of their respective owners.