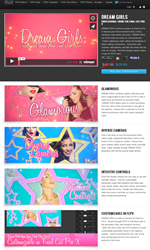 Fun, fresh, and energetic are three words I would use to explain the Dream Girls theme
Aliso Viejo, California (PRWEB) May 27, 2014
Final Cut Pro X Plugin developers from Pixel Film Studios have announced the release of the Dream Girls theme for FCPX filmmakers.
"Fun, fresh, and energetic are three words I would use to explain the Dream Girls theme" Says Christina Austin, CEO of Pixel Film Studios. "Stay uncompromised with this professional Dream Girls theme."
Dream Girls is theme exclusive to Final Cut Pro X featuring over 50 environment shots, 4 shiny transitions, lower thirds, and more! Dream Girls has all the tools necessary for a full production. Create a glamorous video without the headache of heavy editing or keyframes. Control the color schemes, add particles, and alter the mood with the click of a mouse. Pixel Film Studios themes makes it easy for FCPX users.
Dream Girls combines realistic reflections and a magical glow to give Final Cut Pro X users a super shiny environment for personal media. Dream Girls allows users to control everything from the colors of the environment, to the glint of the particles. Choose from a selection of over 50 vibrant environment shots and create a beautiful video.
Find a vast array of over 50 environment shots within neatly categorized drop-down menus in the Final Cut Pro X inspector window. Choose from quick sweeps, dollies (in/out), boom shots, and slide shots. Easily navigate through Dream Girls' generators and find the exactly angle desired.
Pixel Film Studios' themes are very easy to use and naturally intuitive. Find the customizable parameters under bold headlines and utilize easy color wheels, sliders, drop down menus, and rotation dials to alter the scene. Double click drop-zones within the scene to activate on screen controls that allow scaling and positioning.
Customizable in FCPX
Dream Girls is made exclusively for Final Cut Pro X. Browse through FCPX to find dream girls in the generators, titles, and transitions sections. Select the items within the FCPX timeline to reveal customizable parameters found in the inspector window. Control everything from the color of the stars and background hue to the amount of particles in the scene.
Established in 2006, Aliso Viejo, California-based Pixel Film Studios is an innovative developer of visual effects tools for the post-production and broadcast community. Their products are integrated with popular non-linear editing and compositing products from Apple FCPX. All Apple, the Apple logo, Mac OS X, and Macintosh are registered trademarks of Apple Inc. in the U.S. and/or other countries. All other trademarks and trade names are the property of their respective owners.