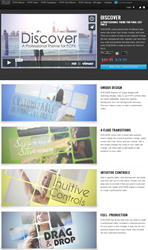 Aliso Viejo, California (PRWEB) July 04, 2014
Developers of plugins and theme template for Final Cut Pro X have released Portfolio Theme from Pixel Film Studios
"Our goal is to offer our users a wide variety quality themes and Portfolio adds a unique style to our library," says Christian Austin, Pixel Film Studios CEO. "Portfolio has a business look our users will love."
Portfolio features a professional title that comes with a variety of on screen controls. Rotate, size and scale the title to add it to the media. The title design is universal which will allow it to fit unto any media it is overlaid on.
Portfolio features 48 camera presets that include dolly's, booms, slides and more. Web Life features a unique camera that gives the user extra camera rotation options, giving the user unlimited camera options.
Portfolio contains all the tools needed for a full video production. Included is a logo key for the editors personal insignia, background key for green screen footage, two lower thirds and four transitions. Web Life allows users to easily create a professional video.
Change the background color, add text, double click the drop zone in Final Cut Pro X to activate the drop zone, then scale and position any media. Portfolio allows users to easily alter the components in each scene. Put a person touch in the environment easily.
Established in 2006, Aliso Viejo, California-based Pixel Film Studios is an innovative developer of visual effects tools for the post-production and broadcast community. Their products are integrated with popular non-linear editing and compositing products from Apple FCPX. All Apple, the Apple logo, Mac OS X, and Macintosh are registered trademarks of Apple Inc. in the U.S. and/or other