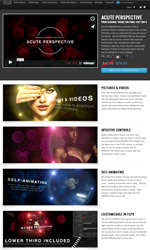 Getting the right look could be a job in itself and the easy to use controls is what makes the Acute Perspective Theme awesome
Aliso Viejo, California (PRWEB) August 14, 2014
Creative design technicians from Pixel Film Studios have released a template, Acute Perspective for Final Cut Pro X. Users can now create beautiful and stylistic looks with ease.
"With easy to use controls, the Acute Perspective Theme is perfect for getting the job done with ease." Says Christian Austin, CEO of Pixel Film Studios. "The Acute Perspective Theme was built with our users in mind, and we're proud of this stylistic plugin"
Acute Perspective Theme is a Final Cut Pro X exclusive theme. Included are easy to use controls that allow users to customize the look and feel of the theme. Acute Perspective Theme has 48 camera options and on-screen controls orient the environment. Also included are useful tools including a logo key, lower third, & customizable transition. Create an awesome project with the use of keyframes or heavy editing.
Pixel Film Studios themes are compatible with pictures and videos. Simply insert personal media into the designated drop zone areas. Activate positioning and scaling on-screen controls by double clicking the drop zones. Rotate the drop zones individually for added personalization.
Sliders, drop-down menus, hue dials, and checkboxes make it easy for Final Cut Pro X users to customize Acute Perspective Theme Double click the drop zone in the FCPX window to activate easy to use on-screen controls. Acute Perspective Theme allows users to easily alter the components in each scene.
All of Pixel Film Studios themes are self-animating which means less editing for Final Cut Pro X users. Creating a beautiful scene is easy. Start by adjusting the position and rotation of the environment using on-screen controls. Next, choose a camera angle and watch Acute Perspective Theme come to life.
Edit Acute Perspective Theme within Final Cut Pro X. Customizable parameters can be found in the top right inspector window in the browser. Use the customizable theme overlay to add particles to the environment shots. Simply choose the desired camera angle, insert personal media, and watch Acute Perspective Theme come to life.
Established in 2006, Aliso Viejo, California-based Pixel Film Studios is an innovative developer of visual effects tools for the post-production and broadcast community. Their products are integrated with popular non-linear editing and compositing products from Apple FCPX. All Apple, the Apple logo, and Macintosh are registered trademarks of Apple Inc. in the U.S. and/or other countries. All other trademarks and trade names are the property of their respective owners.