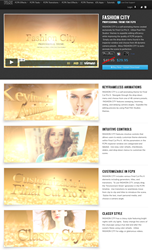 Our goal is to offer our users a wide variety quality themes and the Fashion City theme adds an art center piece environment to our growing library
Aliso Viejo, California (PRWEB) October 03, 2014
Final Cut Pro X motion graphics artists of themes and 3rd party plugins have announced a new Template the Fashion City Theme from Pixel Film Studios
"Our goal is to offer our users a wide variety quality themes and the Fashion City theme adds an art center piece environment to our growing library." Says Christian Austin, Pixel Film Studios CEO. "Fashion City theme features intuitive controls our users will love."
Fashion City is a self-animating theme created exclusively for Final Cut Pro X. Utilize Pixel Film Studios' themes to expedite editing efficiency while improving the quality of FCPX projects. Simply use the drop-down menu found in the inspector window and choose from 48 dynamic camera presets. Allow Fashion City to auto-animate the scene to perfection.
Fashion City is a self-animating theme for Final Cut Pro X. Navigate through the drop-down menu and choose from one of 48 camera presets. Fashion City features sweeping, booming, sliding, and dolling camera angles. Expedite the editing process by using Pixel Film Studios themes.
Fashion City features intuitive controls that allow users to easily customize theme elements within Final Cut Pro X. All the parameters in the FCPX inspector window are categorized and labeled. Use easy color wheels, checkboxes, sliders, and drop-down menus to customize the scene.
Fashion City includes various Final Cut Pro X elements including generators, titles, and transitions. To use Fashion City, simply drag the "Environment Shots" generator in the FCPX timeline. Use transitions to seamlessly move from clip to clip and titles to introduce the scene. Stylize the text, insert personal media, and choose a camera angle
Fashion City has a classy style featuring bright nights with city lights. Easily change the colors of the cityscape using a hue dial and alter the scene's flares using color wheels. Utilize Fashion City for edgy or glamorous videos.
Established in 2006, Aliso Viejo, California-based Pixel Film Studios is an innovative developer of visual effects tools for the post-production and broadcast community. Their products are integrated with popular non-linear editing and compositing products from Apple FCPX. All Apple, the Apple logo, Mac OS X, and Macintosh are registered trademarks of Apple Inc. in the U.S. and/or other countries. All other trademarks and trade names are the property of their respective owners.