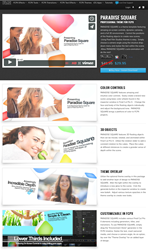 Paradise Square is a simple-to-use and a simplistic template that allows FCPX users to create a professional themed video with ease in Final Cut Pro X
Aliso Viejo, California (PRWEB) October 04, 2014
Final Cut Pro X plugin and effects manufacturer, Pixel Film Studios, announces the production of the Paradise Square Theme template for Apple's Final Cut Pro X.
"Paradise Square is a simple-to-use and a simplistic template that allows FCPX users to create a professional themed video with ease in Final Cut Pro X," said Christina Austin, CEO of Pixel Film Studios, "With 48 camera options and On-Screen controls, the user has controls of the environment with the Paradise Square Theme."
Paradise Square is a theme template featuring amazing on-screen controls, dynamic cameras, and a full 3D environment. Control the positions of the floating objects to create new scenes. Using Pixel Film Studios themes is easy. Simply choose a camera angle using the intuitive drop-down menu and stylize the text within the scene. Allow Paradise Square's auto-animation will do the rest.
Paradise Square features amazing and intuitive color controls. Easily create a brand new scene using basic color wheels found in the inspector window in Final Cut Pro X. Change the face and body of the floating objects individually and adjust the background tone. Paradise Square brings a plethora of color to FCPX projects.
Paradise Square features 3D floating objects that can be moved, rotated, and animated within Final Cut Pro X. Utilize the rotation slider to add a constant rotation to the cubes Place the cubes at different distances to create a grander sense of depth within the scene.
Utilize the optional theme overlay in this package to add another layer of design to Paradise Square. Alter the light within the overlay to introduce a new glow to the scene. Click the generate button in the inspector window to create new bokeh. Adjust various texture opacities in the theme overlay to create new looks.
Paradise Square includes various Final Cut Pro X elements including generators, titles, and transitions. To use Paradise Square, simply drag the "Environment Shots" generator in the FCPX timeline. Stylize the text, insert personal media, and choose a camera angle. As an option, lay over the "Theme Overlay" for an added layer of design.
Established in 2006, Aliso Viejo, California-based Pixel Film Studios is an innovative developer of visual effects tools for the post-production and broadcast community. Their products are integrated with popular non-linear editing and compositing products from Apple FCPX. All Apple, the Apple logo, Mac OS X, and Macintosh are registered trademarks of Apple Inc. in the U.S. and/or other countries. All other trademarks and trade names are the property of their respective owners.