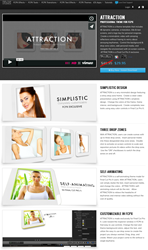 Aliso Viejo, California (PRWEB) October 05, 2014
Final Cut Pro X Plugin developers from Pixel Film Studios have announced the release of the Attraction theme for FCPX filmmakers.
"Fun, cool, and simple are three words I would use to describe the Attraction theme" Says Christina Austin, CEO of Pixel Film Studios. "It has never been so easy to look so professional."
Attraction is a theme template that includes 48 dynamic cameras, a transition, title & text screens, and a logo key for personal insignias. Create a minimalistic video with amazing reflections without having to worry about annoying keyframes. Control the background & drop zone colors, add personal media, and navigate the environment with on-screen controls. Attraction is a Final Cut Pro X exclusive.
Attraction is a very minimalist design featuring a shiny drop zone frame. Create a clean video presentation using Attraction's simplistic design. Change the colors of the frame, frame interior, and background. Create completely new looks using easy color controls in Final Cut Pro X.
With Attraction, users can create scenes with up to three-drop zones. Insert personal media into these designated drop zone areas. Double click to activate on-screen controls to scale and reposition pictures & videos within the drop zone. Use the "ON" checkboxes to switch the drop zones on and off.
Attraction is a self-animating theme made for Final Cut Pro X users. With Attraction, users can simply stylize the text, insert personal media, and change the colors. Attraction's self-animating nature will do the rest. Allow Attraction to relieve the headache of keyframes and intense video editing without the cost of quality
Attraction is made exclusively for Final Cut Pro X. Look toward the inspector window in FCPX to find easy to use controls. Change the text and theme background colors, adjust the text, and utilize the easy to use drop zones to create the project always desired. Drag, drop, and create. Watch the project comes to life without a single keyframe.
Established in 2006, Aliso Viejo, California-based Pixel Film Studios is an innovative developer of visual effects tools for the post-production and broadcast community. Their products are integrated with popular non-linear editing and compositing products from Apple FCPX. All Apple, the Apple logo, Mac OS X, and Macintosh are registered trademarks of Apple Inc. in the U.S. and/or other countries. All other trademarks and trade names are the property of their respective owners.