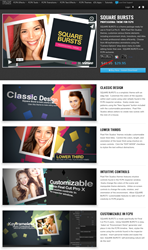 Square Bursts is a simple-to-use and a simplistic template that allows FCPX users to create a professional themed video with ease in Final Cut Pro X
Aliso Viejo, California (PRWEB) October 11, 2014
Final Cut Pro X plugin and effects manufacturer, Pixel Film Studios, announces the production of the Square Bursts Theme template for Apple's Final Cut Pro X.
"Square Bursts is a simple-to-use and a simplistic template that allows FCPX users to create a professional themed video with ease in Final Cut Pro X," said Christina Austin, CEO of Pixel Film Studios, "With 48 camera options and On-Screen controls, the user has controls of the environment with the Square Bursts Theme."
Square Bursts is a theme package ready for use in Final Cut Pro X. With Pixel Film Studios themes, customize various theme elements including environment shots, transitions, and titles to create professional videos efficiently. Choose from 48 keyframeless animations using the "Camera Options" drop-down menu to make editing faster than ever. Square Bursts is an FCPX exclusive.
Square Bursts is a simplistic theme with an edgy feel. Customize the colors of the squares within each scene using color wheels found in the FCPX inspector window. Easily create new patterns using the "New Squares" button included with the customizable parameters. Pixel Film Studios allows editors to create new scenes with the click of a mouse.
Pixel Film Studios' themes include customizable lower third titles. Control the colors, length, and orientation of the lower third using intuitive on-screen controls. Click the "EDIT MODE" checkbox to stylize the text without distractions.
Pixel Film Studios themes features intuitive controls found in the FCPX inspector window. Easily change the colors of the scene and manipulate theme elements. Utilize on-screen controls to change the scale, rotation, and orientation of the environment. Allow Square Bursts customizable features to add a touch of creativity to FCPX projects.
Square Bursts is made specifically for Final Cut Pro X users. Using Square Bursts is easy. Select an "Environment Shots" generator and place it into the FCPX timeline. Next, stylize the scene using the controls found in the inspector window. Insert personal media and stylize the text. Square Bursts self-animating nature will do the rest!
Established in 2006, Aliso Viejo, California-based Pixel Film Studios is an innovative developer of visual effects tools for the post-production and broadcast community. Their products are integrated with popular non-linear editing and compositing products from Apple FCPX. All Apple, the Apple logo, Mac OS X, and Macintosh are registered trademarks of Apple Inc. in the U.S. and/or other countries. All other trademarks and trade names are the property of their respective owners.