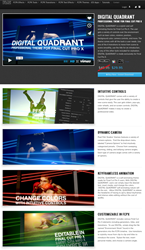 With easy to use controls, The Digital Quadrant theme is perfect for getting the job done
(PRWEB) October 31, 2014
Creative design technicians from Pixel Film Studios have released a new template, The Digital Quadrant theme for Final Cut Pro X. Users can now create contemporary and stylistic looks with ease.
"With easy-to-use controls, The Digital Quadrant theme is perfect for getting the job done," says Christina Austin, CEO of Pixel Film Studios. "The Digital Quadrant Theme was built with our users in mind, and we're proud of this fun style theme."
Digital Quadrant comes with a variety of controls that give the user the ability to create a new scene easily. The user gets sliders, pop-ups, color wheels, and on-screen controls. Digital Quadrant makes it easy to create a professional video.
Pixel Film Studios themes features a variety of camera options. Find the drop-down menu labeled "Camera Options" to find intuitively categorized presets. Choose from sweeping, booming, sliding, and dolling camera angles. Each type of camera angle comes with a variety of options.
Digital Quadrant is a self-animating theme made for Final Cut Pro X users. With Digital Quadrant, users can simply input the desired text, insert media, and change the colors. Digital Quadrant self-animating nature will do the rest. Allow Digital Quadrant to relieve the headache of having to worry about keyframes and intense video editing without the cost of quality.
Digital Quadrant includes various Final Cut Pro X elements including generators, titles, and transitions. To use DIGITAL, simply drag the file named "Environment Shots" found in the generators into the FCPX timeline. Use transitions to stylishly move from clip to clip and titles to introduce the scene. Stylize the text, insert personal media, and choose a camera angle.
Established in 2006, Aliso Viejo, California-based Pixel Film Studios is an innovative developer of visual effects tools for the post-production and broadcast community. Their products are integrated with popular non-linear editing and compositing products from Apple FCPX. All Apple, the Apple logo, and Macintosh are registered trademarks of Apple Inc. in the U.S. and/or other countries. All other trademarks and trade names are the property of their respective owners.